The push to bring state-sanctioned single-game sports betting to Canada hit another snag on Tuesday with the news that the National Hockey League will testify against the pending legislation before a Senate committee. The C-290 bill, which was introduced by New Democratic Party MP Joe Comartin and passed by the House of Commons in March, would amend the Canadian criminal code to permit provincial lottery corporations to decide for themselves whether to permit single-game sports betting within their borders, rather than the current restriction to parlay betting only.
Having already received two readings in the Senate, the Standing Senate Committee on Legal and Constitutional Affairs has been holding hearings ahead of the bill's third and final reading. The last committee hearing featured two figures from Major League Baseball – Toronto Blue Jays president Paul Beeston and MLB general counsel Thomas Ostertag – who expressed their concerns that single-game sports betting would destroy the 'integrity' of their games. On the same day, National Basketball Association commissioner David Stern told reporters that the NBA was "not in the business of encouraging governments to cause their citizens to bet on sports where that situation doesn't currently exist."
Last December, NHL deputy commissioner Bill Daly stated that the league was "not in favor" of the single-game sports betting plan. On Tuesday, Daly made that position the league's formal policy via a statement to Postmedia News: "We too oppose the proposed legislation and we hope to have the opportunity to voice our concerns to the Canadian Senate in the near future." Daly's name has since been added to the witness list for the next Senate committee hearing on Nov. 8. Neither the NBA nor the NFL has indicated whether they would also send reps to the hearing.
SENATOR BOB RUNCIMAN PUSHES BACK
Parliamentary rules dictate that Comartin's designation as deputy speaker of the House of Commons – an officially neutral position – prevents him from publicly commenting on any piece of pending legislation, even his own. Much of the responsibility for publicly defending C-290's merits has thus fallen to the bill's co-sponsor in the Senate, Conservative Sen. Bob Runciman (pictured right). CalvinAyre.com spoke to Runciman on Tuesday, and one of the things we were most curious about was why, if the leagues were so vehemently opposed to the bill, had they not spoken out sooner.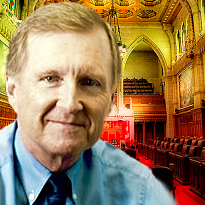 Runciman said one of his Senate committee colleagues reached out to the National Football League to determine why they hadn't expressed any interest in making sure their voice was heard, only to discover that "no one [at the NFL] seemed to be aware" the legislation existed, an admission that surprised Runciman. "You would think major leagues like that would monitor governments in the jurisdictions they operate in to see if there was something happening that might impact them, whether it's taxation or whatever."
The full list of witnesses to appear at the Nov. 8 hearing has yet to be finalized, but Runciman is adamant that the leagues won't be the only ones voicing an opinion. "We want to have balancing witnesses instead of having a flood of negativity." Runciman also suggested the next panel of league personnel to appear before the Committee might want to bring their 'A' game. "I didn't think [Beeston and Ostertag] made a very convincing case. They talked about increased problem gamblers … We had experts there to say they don't believe [C-290] is going to have any impact with respect to problem gaming. I asked Mr. Beeston last week for materials to back up what he was saying about problem gamblers and he said, 'well, it's essentially anecdotal.'"
Runciman also took issue with Beeston's comments regarding betting opening up the door to match fixing. Runciman noted that gaming experts had testified that regulated sports betting offered the prospect of "information sharing so that the organizations can monitor unusual betting activity. I asked [Beeston and Ostertag] if they had information sharing agreements with, for example, Nevada or some of the offshore legal betting operations and they don't have any. They say 'gambling isn't a problem currently' and my question would be 'how would they know?' I think when you put it up there on the board to look at, it doesn't make a lot of sense, what they're talking about."
WILL THE LEAGUES' 'KILL BILL' EFFORTS SUCCEED?
As far as Runciman is concerned, the leagues are making too big a deal out of C-290's potential effect. "That this is going to have such a catastrophic impact just doesn't make any sense whatsoever." However, Runciman acknowledges that other members of the Senate may not share his conviction and that the leagues' objections might yet doom the bill's prospects for passing a third reading in the full Senate. "There are a lot of people who are opposed to any expansion of gaming. Period. End of story. Some folks who may be on the fence can be persuaded by having these major leagues express concerns. It's very unpredictable."
Asked about an expected timetable for that crucial third reading, Runciman noted that situations like this were rarely carved in stone, "but it should come to the Senate the week of Nov. 19th. As for how long the debate will take place, I know there's a lot of members who want to participate in the debate at third reading, so we could be into December before it comes to a final vote. I know from my own caucus meeting when this subject was discussed a couple weeks ago, there's a lot of them who want to get their oar in the water on this one."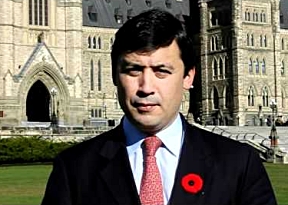 TEACHIN' CHONG
Michael Chong (pictured right), Conservative member of the House of Commons, has led the charge to defeat C-290. One of Chong's favorite anti-C-290 talking points is the effect single-game sports betting could have on the leagues' future expansion plans. There are more than a few Canadian cities chomping at the bit to nab, say, an NHL franchise, even if it's one of the teams currently underwhelming 'fans' in the southern United States. But Chong told CBC Sports that will never happen if that city is in a province that allows single-game sports betting. "I take seriously when MLB says it puts at risk future expansion or the re-establishment of a second MLB franchise in Canada, as they said in front of the Senate committee this week, There's a reason why none of the four major sports leagues have moved a franchise to Nevada. That jurisdiction has legalized single-event sports betting."
As luck would have it, New England Patriots owner Robert Kraft poked a giant hole in Chong's theory this weekend. At a rally in London's Trafalgar Square promoting Sunday's NFL regular season game between the Pats and the St. Louis Rams, Kraft made the following observation: "I think London has shown, with the way they've handled the Olympics and every other major sporting event, that it's time for you to have your own NFL franchise, based in London." London, where single-game sports betting has been legal for decades. Ahem.
We referenced Kraft's comments in our conversation with Runciman, and the senator offered this response. "That's interesting. Glad you told me about that. I'll toss that up at the meeting next week. If you have any more gems like that, let me know." Go get 'em, Bob. And you're welcome, Canada.