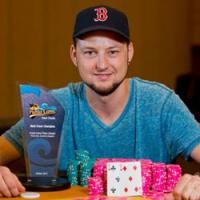 Matthew Weber won the 2012 Punta Cana Poker Classic Main Event, besting 380 players to stake claim to the title and the $135,475 first prize that comes with it. The American poker player became the first non-Canadian player to win the famed tournament after Canadians Peter Cross and Demo Kiriopoulos walked home with the title in 2010 and 2011, respectively.
The four-day tournament saw its share of action at the Hard Rock hotel and Casino Punta Cana. But by the time the final table rolled around, it was Weber and eight other players who were left standing. The final table was whittle down pretty quickly with Tim Barany the first casualty to hit the rail. From there, Day 2 chip leader Nicola Baseli saw his dream of becoming the third winner of the Punta Cana Poker Classic fade into the sunset after getting booted off far earlier than he would've liked.
The rest of the final table slowly began to take shape as Americas Cardroom player Fred Swart, who managed to score a sear in the tournament thanks to a series of wins on freerolls at Americas Cardroom, was the next to go. Billy Kontaratos and Gabriel Zacalik were the next two to hit the rail, effectively whittling down the field to the last four players.
From there, play slowed down as the Final Four – Weber, Kelly Kellner, Eric Grenier, and Zack Cooke – tried to establish themselves in the last stretch of the tournament. But for Cooke, fourth place ended up being all he could muster, having failed to outlast Weber, Kellner and Grenier on the felt to duke it out for the title. Just like Cooke, though, Grenier ended up being the next to hit the rail in 3rd place, leaving behind Weber and Kellner to go heads-up to determine the winner of the 3rd Punta Cana Poker Classic.
At the onset, Weber and Kellner had about the same stack of chips, but as is the case with a heads-up final, it only took a couple of wins for one player to establish control and that was Weber. As soon he as he was up on the stacks, the American never looked back, riding his own momentum to first place and the 2012 Punta Cana Poker Classic title.