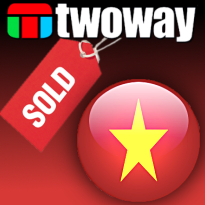 Completing a deal that was initiated in August, Australian interactive media and gambling applications outfit Two Way Ltd. has inked a deal to sell 94.8% of the company to Donaco Singapore Pte. Ltd., the firm headed by two nephews of K.T. Lim, CEO of Malaysian gambling giant Genting Bhd. (Genting Hong Kong recently made a play for Aussie casino operator Echo Entertainment. Look out! The Malaysians are coming!) On Tuesday, Lim Keong Yew and Benjamin Lim Keong Hoe announced that the deal would lead to the formation of a new company – Donaco International Ltd. – that would pursue growth opportunities in the Asia-Pacific region. Lim Keong Yew said the "combined skill sets of Two Way and Donaco means that we can consider new interactive media and gambling applications, while also pursuing new licenses that will allow us to develop and operate hotels and casinos." The deal must be approved at Two Way's AGM on Nov. 22.
Donaco's key asset is its 75% stake in the Lao Cai International Hotel in northern Vietnam, which is currently being expanded to accommodate 428 rooms, 26 gaming tables and up to 150 slot machines. Once that expansion is complete, Donaco will "explore a range of new online gaming and potential casino opportunities." Lim Keong Yew was keen to stress the potential to adapt Two Way's interactive TV technology to serve the Chinese market. Chinese punters accounted for 99% of the Lao Cai casino's 2011 revenues of $12.3m, from which the casino generated a net profit of $6.1m.
VIETNAM PONDERS ELECTRONIC GAMBLING LAW CHANGES
Vietnam's casinos are currently accessible only by foreigners, a limitation maintained in the country's draft legislation on foreign resort casino investment, which has drawn the ire of several would-be foreign investors, such as Las Vegas Sands' Sheldon Adelson. This week, the Standing Committee of the National Assembly debated revisions to the country's laws on electronic gambling – separate legislation that covers jackpot and slot machines in hotels. There are currently 43 establishments that offer electronic gambling in three-star-or-better hotels and tourist spots primarily located in Ho Chi Minh City or Hanoi. However, no new licenses have been issued since 2007 after locals were discovered gambling in some of the existing establishments. Electronic gambling revenue totaled VND 5 trillion ($238m) in 2011, with each establishment netting an average $952k.
In a report submitted to the committee by Minister of Finance Vuong Dinh Hue, it was recommended that only five-star-or-better hotels should be recognized as satisfying the conditions for offering electronic gaming to foreigners. Saigon Giai Phong Daily reported a recommendation by Finance and Budget Committee chairman Phung Quoc Hien that the number of gaming devices allocated to these hotels should be tied to the number of rooms they offer. (A 5:1 room-to-game ratio was suggested.) It was also suggested that the duration of the licenses be halved, from ten years to five. Regular and random inspections would both be increased, and specific fines would be established to deal with specific violations. The current maximum fine for violations of the electronic gambling law is VND 200m ($9,600). A finalized text of the new law is expected to be presented to lawmakers sometime in Q4 2012.