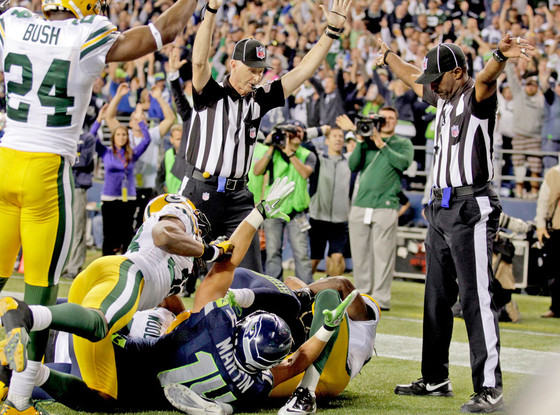 The stench that came out of what will now forevermore be known as the Monday Night Debacle has caused a maelstrom of criticism from pretty much all corners of the world. Even with the regular officials now back on the field – guess why their lockout ended a few days after that controversial call – a lot of people, or in this case, bettors are still stewing over the controversial call from the replacement refs.
One casino though took the unusual step earlier this week to issue refunds to gamblers who lost their bets when the Seattle Seahawks won over the Green Bay Packers in the only "touchception" call in the history of the NFL.
Capitalizing on what could end up being good publicity for their casino, The D Las Vegas decided that bettors who lost during the game would be issued a refund of their bets. Talking to the Associated Press, D Las Vegas owner Derek Stevens explained his decision to issue the refunds. "I know exactly how it would feel if I was laying the number and I saw what happened," he said.
As it stands, the D Las Vegas will refund all straight and money line bets made on the Packers until Sunday, albeit with a caveat: the refunds are only applicable to bets made at the casino's sports books.
While that could endear him – and his casino – to the betting public, the decision wasn't exactly universally lauded, especially by his Vegas sports book peers. Jay Kornegay, race and sports book director at The Las Vegas Hilton casino, was worried about what kind of precedent Stevens' decision would have in the industry.
"Whenever there are bad calls we're going to start refunding? Based on what?" Kornegay said. "We're supposed to pay out winning wagers based on official final scores by the league, in this case the NFL."
It's worth pointing out that The D Las Vegas was the only casino in Vegas to offer refunds, a move that could endear them to the betting public, especially when the company is in the middle of renovating and rebranding their high-rise downtown casino.
Then there's the issue on how many refunds the casino will actually issue, especially if a bettor already threw his printed betting slip in the trash in disgust. Are refunds going to be issued to those whose betting slips have already been thrown, ripped, burned, or in some cases,  used to wipe someone's ass?
Granted, the intentions are noble and the good vibes their going to receive from their bettors will probably be worth all the refunds they're going to issue back. But the question we can't help but ask is: what're you going to do when the next controversial call in a sporting event occurs?
What happens then?
Comments