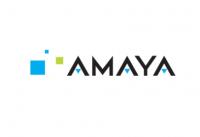 Canadian gambling tech firm Amaya Gaming Group has made its latest acquisition with news they're taking 100 percent of fellow gambling supplier Cadillac Jack Inc. The deal is worth $167million and includes the assumption of any debt involved with Amaya funding the deal through a combination of cash-on-hand and a non-convertible senior secured term loan. It will also see Gene Chayevsky, CEO and chairman of Cadillac Jack, leave the company with the deal expected to complete in the final quarter of 2012. Another acquisition all but confirms Amaya will continue to struggle to make any meaningful in-roads into a loss that stood at $4.55m in Q1.
"The acquisition of Cadillac Jack is a pivotal event for Amaya. We expect that the combined companies will leverage their distribution for game content in the key areas of online, mobile and land based casinos. The Acquisition creates immediate scale for Amaya's operations and greatly enhances growth opportunities for both companies," said David Baazov, CEO of Amaya.
This deal itself is, to be frank, nowhere near as interesting as the effect Cadillac Jack joining the team might have on Amaya's ability to make a meaningful offer for bwin.party's castoff, the Ongame Network.
A number of reputable media outlets have reported that Amaya could complete the deal for Ongame as early as the Global Gaming Expo – which is next week for those not in the know – and it could cost them anything between $5m and $25m to get their hands on the network.
The financial situation of the company could look fairly perilous for a little while if these deals go through and that in mind you'd think that Amaya might decide to abandon one of the deals to let the other one happen. That could still take place but given their recent exploits it wouldn't surprise us were they to take both. In that case they will have some line up and at some point they might even turn a profit.
Comments