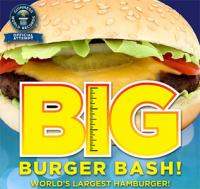 The Black Bear Casino Resort in Carlton, Minnesota entered the Guinness Book of World Records with the kind of record that you normally wouldn't associate with a casino. No, they didn't set a record for the most number of poker players simultaneously playing a hand. They didn't have the biggest slot machine jackpot either.
The casino didn't even make the record books with anything to do with gambling. Instead, they made history all because of a bacon cheeseburger.
Wait, what? A bacon cheeseburger?
Unbelievable as it sounds, it's also true.
According to a report from the Duluth News Tribune, the Black Bear Casino Resort celebrated Labor Day in the US by cooking a monster of a burger that will probably cause serious digestive issues to anybody who may want a crack at finishing the entire thing. That's because unlike any other kind of burger we've ever seen – trust us, out mouths have had run-ins with plenty of 'em – the burger Black Bear Casino Resort cooked up measures 10 feet in diameter and weighs – are you ready for this? – 2,014 pounds.
That's a ton. Literally.
In making this monstrosity, Black Bear used a staggering amount of ingredients that included 60 pounds of bacon, 50 pounds of lettuce, another 50 pounds of sliced onions, 40 pounds of pickles, and 40 pounds of cheese. And that doesn't even count the patty and the buns, which we're afraid to say probably weighed about as much as an elephant. Again, no exaggerations there.
To cook the burger, Black Bear used an outdoor oven that was powered by propane torches. Likewise,15-foot steel skillets were specifically built for the singular purpose of cooking both the bun and the burger. Despite the specially-designed tools, the giant buns – not the kind you're thinking of – took seven hours to bake while the burger took four hours to cook at 350 degrees with a crane being used to actually hoist and flip the burger over on the other side.
Somehow, someway, the mission was eventually completed and the burger was served to casino guests for free as part of their Labor Day celebrations. More importantly, though, Black Bear Casino Resort achieved something no other casino in the world can even come close to replicating.
Guinness Book of World Records adjudicator Philip Robertson was on-hand for the entire festivities and even he was impressed with the outcome of the event. "What I saw today was a feat of remarkable teamwork that resulted in a world record burger that actually tastes really good," he said in a news release, as quoted from the Duluth News Tribune.
Make no mistake, we congratulate Black Bear Casino Resort for the record, but Forget about the record for a second and tell us your stomach didn't turn a few times just by looking at sheer enormity of this bacon cheeseburger.