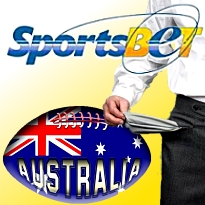 A Sportsbet-commissioned Deloitte report says betting on Australia's two major football leagues could double to $3.3b/year over the next five years. Sports betting turnover is currently growing at an annual rate of 13%, with the online variety growing even faster at 28%. Betting on the Australian Football League (AFL) currently turns over $900m/year while the National Rugby League (NRL) takes in $750m/year, from which Aussie bookies generated a combined $81.5m in revenue in 2011. The two leagues represent half of overall Australian sports betting and 7% of total wagering, but sports betting's current $3.3b turnover tally has nothing on Australian racing, which generates $20b in annual turnover.
Sportsbet commissioned the football bet study after the NRL expressed a desire to change its betting rights scheme from the existing 5% gross profit model to a formula that would include a percentage of betting turnover. Racing New South Wales won a High Court ruling in March allowing it to implement a 1.5% turnover levy on bookies, dealing an immediate $100m back payments blow to court challengers Betfair and Sportsbet, who both warned that they couldn't take the pain if the Aussie football leagues followed suit. The Deloitte study suggested the NRL's annual haul could rise from $2m/year to $9m/year if a turnover regime was implemented.
But Sportsbet has warned the Australian Rugby League Commission that such a change to the betting rights model would result in increased costs being passed on to punters, which would encourage cost-conscious consumers to seek less punitive options from the global online betting menu, thus lowering the take the leagues could expect from domestic betting outfits. The Australian quoted Sportsbet chairman Matt Tripp saying it was "critical" that the leagues understand the mathematics "because the flow-on effect could be catastrophic … to go to turnover on a low-margin product is fraught with danger."
Tripp went on to say that the betting agencies would likely cut back on the $11m/season sponsorship and promotional revenues they currently provide the rugby leagues. "We would need to shift our marketing dollars to products where we can make money." Tripp suggested the AFL would be the "real winner" from such a spending shift. The betting outfits have a five-year betting rights deal with the AFL, under which it receives 7.5% of gross profit on regular season matches, rising to 10% on finals.
Comments