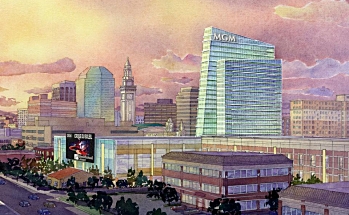 MGM Resorts handed Massachusetts gaming regulators a check for $400k on Wednesday, officially declaring its intentions to develop an $800m casino in downtown Springfield (90 miles west of Boston and 26 miles north of Hartford, Connecticut). Last November, politicians approved legislation carving the state into three zones, with a single casino allocated to each. The southeastern region's casino is slated to go to an Indian tribe, and the eastern zone is widely expected to be awarded to the joint venture of Caesars Entertainment and the Suffolk Downs racetrack, who have already submitted their $400k. That leaves only the western zone up for grabs, and MGM's competitors will likely include Ameristar, Penn National Gaming, Seminole Hard Rock Entertainment and the owners of Connecticut's Mohegan Sun casino.
MGM Springfield envisions a 10-acre (three city blocks) complex that includes a 250-room hotel, retail and dining options, a 12-screen cinema, a bowling alley, and (oh yeah) 89k-square-feet of casino floor. Construction would create 2k jobs plus thousands of permanent jobs once the joint is up and running. Downtown Springfield was heavily damaged in June 2011 by a tornado, so the promise of rebirth is something MGM is keen to sell to city officials as well as to the Massachusetts Gaming Commission (MGC). Trouble is, MGM has already butted heads with the MGC over its two-part bidding process, possibly because MGM's not looking forward to the integrity-vetting portion.
It's been suggested (mainly by MGM's competitors) that MGM's joint venture in Macau with Pansy (daughter of Stanley) Ho might not pass the MGC's 'suitability' smell test. In early 2010, MGM was forced to divest itself of its 50% stake in Atlantic City's Borgata casino after New Jersey regulators deemed Ho 'unsuitable' due to her father's alleged association with China's triads. Despite the Borgata being the most lucrative of AC's 12 gaming joints – which is sorta like saying Moe was the smartest of the Three Stooges – there was no way MGM was going to walk away from those Macau millions. MGM Springfield president Bill Hornbuckle told Boston's Fox 25 affiliate that MGM "didn't agree with New Jersey's findings." Hornbuckle noted that regulators in Nevada, Mississippi, Illinois and Michigan hadn't voiced any concerns re Ho. Hornbuckle also said that MGM is now the majority partner in the Macau JV, which was not the case in 2009 when New Jersey asked MGM to turn its head and cough.
MGM is facing similar concerns in Maryland, where it plans to submit a bid for the state's recently approved sixth casino. While MGM's Maryland competitors have called into question MGM's dealings with local developers, others have taken their attacks into, um, uncharted territory. In June, the Prince George's County Contractors and Business Association released a statement in which chairman Joe Gaskins noted MGM's "questionable background" which included ties to "the Chinese, North Korean and Russian mobs." Er, okay… Frankly, we're willing to bet Gaskins blows a gasket when he discovers MGM's online poker JV partner Norbert Teufelberger did time in a French prison. Sacre bleu!
Comments