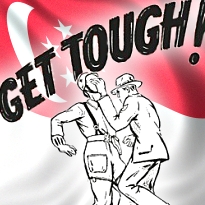 After falling over 15% this year and a further 3% earlier this week following the release of disappointing Q2 earnings, casino operator Genting Singapore's stock rose 6.25% between Wednesday and Friday, buoyed by the decision of financial analysts Macquarie to upgrade the stock from 'neutral' to 'outperform', citing an improvement in the casino firm's outlook for the rest of the year.
Much of Genting's recent downward momentum came as a result of the Singapore government's proposal in July to tighten regulations on the city-state's two integrated resorts: Genting's Resorts World Sentosa (RWS) and Las Vegas Sands' Marina Bay Sands. These proposals included boosting the maximum fines imposed for violating said regulations – such as allowing minors access to the casino floor, or failing to impose the S$100 daily entry fee on local residents – from the current maximum of S$1m to a staggering 10% of a casino's annual revenues. It didn't help Genting's stock that just days later, Singapore's Casino Regulatory Authority (CRA) announced it was investigating RWS for reimbursing entry fees to local gamblers.
Singapore authorities recently concluded a month-long public consultation period on the proposed changes to the Casino Control Act. On Friday, the Ministry of Home Affairs stated that the majority of feedback supported the changes. Indeed, many didn't think the changes went far enough. It's been suggested that the proposed cap on the frequency of a punter's visits might lead to gamblers placing larger bets to make the most of their limited window of opportunity. Today Online quoted Chan Chun Sing, Acting Minister for Community Development, Youth and Sports, saying if bettors "intensify their gambling while on a visit limit, [a committee of social service professionals and community leaders] will reassess and impose casino exclusion orders, if warranted." The authorities are aiming to table the amended regulations in Parliament before the end of this year.
Consider yourself excluded: the fifth member of a gang that cheated Marina Bay Sands out of S$150k last summer was sentenced to five months in prison on Friday. He got off relatively easy, considering the other four cheaters had already been given sentences ranging from 14 months to three years. The longest sentence went to Ho Boon Keat, the gang's ringleader, who worked at the casino as a surveillance operator. Channel News Asia reported that when Ho was on duty, his accomplices would play Sic Bo and wait until all three dice showed the same number – a result that promises a 180x return on the amount wagered. Then one of the gang would claim to have wagered S$25. The pit manager would ask Ho to check the videotape for proof of this wager, and Ho would confirm the wager had been made. The gang apparently went to the well once too often, and now they're tossing dice to see who gets the top bunk.
Comments