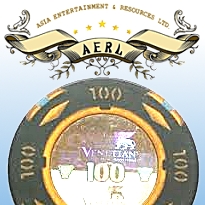 Macau junket operator Asia Entertainment & Resources Ltd. (AERL) saw rolling chip turnover fall 40.8% in July to US$1.31b. The drop-off is significantly more than the 9% fall recorded in June – although the dollar figure isn't far off June's $1.365b – and reflects the slowdown in growth experienced by the whole Macau market in July. Like everyone else, AERL blames the typhoon that blew through town, shutting down the ferry service and leaving those high-rollers stranded on the mainland, plus the fact that there were five weekends in July 2011 compared to the usual four this year. AERL also made a conscious decision to "be more prudent in extending credit" due to China's slowing economy. Oh, and AERL had to contend with the one-off appearance of the mega-whale who turned over almost $200m on the tables last July, which sorta skewed the numbers. On the plus side, AERL's year-to-date turnover was $11.377b, up 7.1% over the same span in 2011.
AERL also announced that it is changing its remuneration model from a fixed commission of 1.25% of rolling chip turnover to a revenue sharing model at its VIP rooms at Galaxy Star World, Galaxy Macau and the Venetian Macau. AERL chairman Lam Man Pou said the commission model made sense two years ago, when AERL had only $45m in cage capital. "Today, with over $260m in cage capital and with 29 VIP tables in three rooms, we believe the greater volatility surrounding a revenue sharing model is significantly reduced." The company believes it can achieve a return of "over 1.3%" via the rev-share model, which will also allow AERL to "negotiate on additional allowances and other incentives, thus increasing revenue and ultimately, net income." AERL simultaneously announced a share repurchase program, good until June 2013, under which AERL will reacquire up to 2m of its ordinary shares.
Looking at the broader Macau casino market, Sands China overtook Galaxy Entertainment for second place in the market share rankings in July, according to figures from Business Daily. Sands rose 4% to 22%, while Galaxy fell 4% to 19%. SJM Holdings continued to rule the roost, unchanged at 26%. Melco Crown was fourth with 13%, followed by Wynn Macau at 11% and MGM China at 9%.