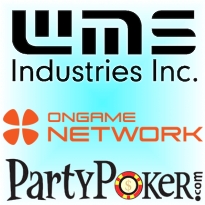 US gaming device maker (and Nevada online poker hopeful) WMS Industries has launched Williams Interactive, a wholly owned subsidiary focused on social and real-money gaming in both the online and mobile arenas. Williams Interactive will group together all the various WMS appendages currently doing business in this realm, including UK-based online casino JackpotParty, recent game developer acquisitions Jadestone Group and Phantom EFX, the Lucky Cruise social casino game and more. WMS president Orrin J. Edidin has been assigned the role of president/CEO of the new operation (while retaining his WMS duties), with Jordan Levin as VP/COO and Kent Hansen as VP/CFO.
Meanwhile, Jadestone has partnered with the Ongame online poker network to offer casino side games to Ongame's dwindling player base). The addition of a casino option may be viewed as a bid by Ongame owner Bwin.party to make their 'surplus asset' a more attractive acquisition for one of the six parties that have reportedly expressed an interest after Shuffle Master walked away from the table. Finnish operator Paf is the first Ongame skin to offer the casino games (currently 10, with more in the pipeline) to its customers. Jadestone CEO Robert Henrysson said that the company "may ultimately look to provide WMS award-winning portfolio in a similar manner."
In related news, PartyPoker (Bwin.party's non-surplus poker asset) has released a software update that eliminated all cash games over 5/10 no-limit and pot-limit. Players were given no advance warning of the change and the Medium Stakes Poker Forum on TwoPlusTwo quickly swelled with regs outraged by the move. Players who contacted Party have reported receiving a statement saying the decision was made "to make improvements to our poker ecology and in our players best interests." For what it's worth, one Party regular described the now-absent games as "a massive predatory bumhunting fest." Meanwhile, Bwin.party shares closed at 102.2p on Tuesday, just above the historic low of 100.36p set last August, and a far cry from 2012's 172p peak set this February.
Comments