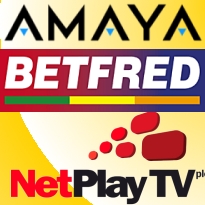 UK operator NetPlay TV issued a trading update for Q2 2012 reporting key performance indicators are "significantly ahead" of the same period in 2011, including a 48% rise in average daily revenues. Revenue rose 3% quarter on quarter, bucking NetPlay's traditional downturn from Q1 to Q2. Compared with Q1 2011, new depositing casino players rose 78% to 12,958 while active depositing casino players rose 54% to 22,647. The robust results continue the positive numbers posted in Q1, which saw revenues rise 12.4%.
Amaya Gaming Group is planning a compulsory purchase of the remaining outstanding share capital in online casino games developer Cryptologic. The Montreal-based Amaya received acceptances of acquiring 90% of Cryptologic this spring and now intends to exercise its rights under Guernsey law to compel any shareholder who hasn't yet handed over their stock to do so "on the same terms as originally available under the offer." Amaya also says it plans to follow up its delisting of Cryptologic from the New York and London markets by delisting from the Toronto Stock Exchange. In related news, Cryptologic announced the launch of two new slot games – Fire Flies and Captain Nemo – plus Monte Cristo, a hybrid casino/casual game. The games will debut on InterCasino.com before being rolled out at other Cryptologic licensees.
UK sportsbook operator Betfred is making its initial foray into the social game sphere by lending its name to We R Interactive's "I AM PLAYR" football video game. The game, which allows players to imagine they're living the life of a pro footie player, claims to have 1m users on Facebook. A Betfred-branded virtual betting shop featuring Betfred odds on sports and racing events will be incorporated into the game play. Betfred managing director Chris Sheffield said the tie-up appealed due to its capacity to expose the brand to a wider audience.
The mystery surrounding the Betfred punter who failed to pick up his £394k winnings has been solved. Turns out the winner – 53-year-old Newcastle punter Thomas Galligan – didn't realize he was owed anything because he thought he'd wagered on a different result. Galligan, who suffers from arthritis, had enlisted his more mobile 22-year-old daughter Amber to place a £2 ToteScoop6 wager on his behalf, but something got lost in translation. Amber mistakenly picked a non-runner in one race, so the wager was automatically reassigned by Betfred staff to the favorite nag, which performed as advertised. Despite a nationwide search for the winning ticket holder, Thomas never suspected Amber's cockup meant he was the likely lad. The mystery was only solved when Amber returned to the Betfred shop to place another wager for her dad. Thomas, who'd been sleeping on a sofa in a two-bedroom council flat, now plans to buy a house of his own, and, presumably, will encourage Amber to continue being so bloody careless with his money.