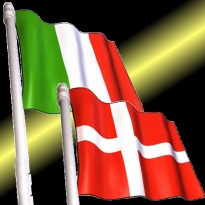 On the same day that Italy vanquished Germany to advance to the Euro 2012 final against Spain, Italian gambling regulator AAMS posted figures for May that showed the first uptick in online turnover since October 2011. However, May's gross gaming revenue of €57.4m was down 15% from April's €67.7m and down 28% from February's peak of €78.9m. Casino games accounted for just under €12m of May's total, the channel's best performance since being legalized 10 months ago. Sports betting revenues were €7.85m on turnover of €94m, while bingo brought in €3.7m (down 30% from May 2011).
Poker cash games contributed €18m, while tournament fees were €12.5m (less than half the sum earned in May 2011). Combined, poker revenues rose 10% from the previous year. PokerStars remains the country's top poker provider in both tournaments (37.5% of the market) and cash games (26%). Lottomatica remains in second place in the cash games contest with a 14% share, but Bwin narrowly edged out Lotomattica on the tournament front (11.46% to 11.18% respectively). In the casino charts, Lottomatica rules the roost, followed by Bwin, SISAL, SNAI, Winga, William Hill and 888.
The Danish Gambling Authority has ordered a domestic internet service provider to impose blocks on 12 gambling firms lacking official Danish online gambling licenses, most notably Betclic Everest subsidiary Bet-At-Home and several Playtech-powered sites, including Titan Poker. On Tuesday, a court in the Danish city of Frederiksberg issued an injunction to telecom operator '3', instructing it to take the necessary measures to prevent the dirty dozen sites from reaching the computers of Danish citizens. The Authority claims to have sent prior warning notices to the 12 operators, whose sites were targeted because they contained elements specifically targeting the Danish market, such as Danish language options. (Guess that email finking program was effective.) A spokesman for '3' told Gambling Compliance it was "not particularly happy to police our customers" but that it would honor the injunction. The country's other ISPs are expected to follow 3's lead.