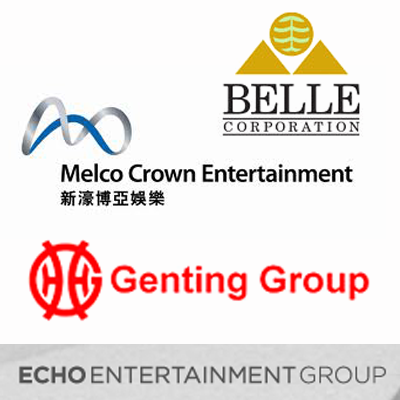 The Philippines' desire to be a major gambling destination in Asia received another jolt of good news after the Australian Financial Review reported that Melco Crown Entertainment Ltd is in serious discussions with Henry Sy Jr. and Belle Corporation to build a $1 billion casino in the Philippines.
Melco Crown, run by Australian casino mogul James Packer and Macau tycoon Lawrence Ho, is seeking entry into the fledgling Philippine market and they've found a partner in Henry Sy Jr.  The Sr. Sy is the richest man in the Philippines. Specific parameters of the deal have yet to be announced as Corazon Guidote, spokesperson for SM Investments, was quoted by Reuters through a text message saying, "there's discussion but nothing final."
We've written a lot on the Philippines and its potential. Melco has been trying to get a foothold in the Philippines with their main goal being a casino in Pagcor's Entertainment City. As it stands now, the government agency has already granted four licenses to casino operators, one of which is for the Sy owned Belle Corporation. If the deal between Melco Crown and Belle Corp pushes through, the former's wish to be part of Entertainment City would almost certainly be fast-tracked. The other three operators with their own licenses are Enrique Razon Jr's Bloomberry Corporation, Kazuo Okada's Universal Entertainment, and Andrew Tan's Travellers International Hotel Group, a unit of Alliance Global Group for which the latter already operates Resorts World Manila.
News of this impending deal comes soon after one of Genting Bhd's units Genting Hong Kong Ltd., filed an application to casino regulators in New South Wales and Queensland states to increase the casino operator's stake in Echo Entertainment Group Ltd. to over 10%, a number signifying the individual shareholder cap as per Echo's constitution. According to Echo's constitution, anybody who wants to have voting power of more than 10% of Echo's shares must first get written consent from the Authority and the Queensland Attorney General. Similarly, Packer's Crown Entertainment also made the same request.
Genting's move to increase its shares in Echo can be attributed to its desire to build its own casino in Sydney. Last week, Genting's Singapore unit made the announcement that the company bought a 9.9% stake of Echo for a total amount of A$295.1 million.
Likewise, it's also important for the Crown to be in the same boat as Echo has an exclusive license to operate in New South Wales state until 2019, preventing the former from entering the NSW market. If Crown could get its shares up, it can pave the way for the company to make a move to build a new casino in Sydney joining the Crown Entertainment Complex in Melbourne and Burswood Entertainment Complex in Perth.
As was mentioned last week, the business wheelings and dealings of Crown and Genting have given rise to speculation that there could be a potential partnership between the two, one in which a deal could be struck that paves the way for Genting to support Crown's Echo bid. In exchange, Genting will receive a share of Crown's one-third share of Melco Crown Entertainment, which could potentially open doors for Genting to enter Macau. Then again, a huge roadblock stands in the way of this deal from happening as The Australian reported that Lawrence Ho, Melco Crown's majority partner, carries pre-emptive rights on Packer's stake in Melco Crown and is more than likely to nix the deal.
Comments