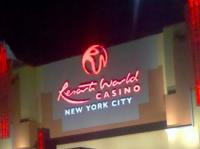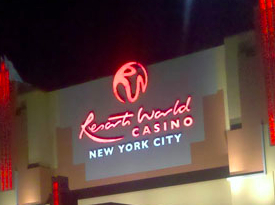 So LeBron James finally wins an NBA title in his 9th year in the league. He's still got nothing on Resorts World Casino New York City who only needed eight months to stake claim as the single largest gross slot gaming revenue and tax-generating gaming property in the United States. Who deserves the crown now, King?
All joking aside, the eight-month-old casino at the Aqueduct Racetrack in South Ozone Park has supplanted some well-established locations to earn top marks. You name it – Las Vegas, Atlantic City, Connecticut and a host of others – Resorts World NYC is looking down on all of 'em from its perch atop the podium.
The casinos' gross gaming revenues for the month of May topped out at $57.5 million, edging past the Mohegan Sun, which earned $55.4 million
Michael Speller, president of Resorts World Casino New York City, was quoted by the Queens Tribune, saying: "Resorts World's model has maximized gaming revenue for New York State in a manner that has not been replicated by any other facility in the nation."
"We are proud of the incredible revenue Resorts World has generated to support the education of New York's students and the more than 3,000 jobs we have created for hard-working New Yorkers," he adds.
Even better is the fact that the money the casino is earning is being given to the right sectors. According to the Queens Tribune, 70 percent, or more than $40 million of its monthly gaming, were given to education, the horse racing industry and other state entities. Since it first opened for business late last October, the casino has provided over $252 million in tax money to the state, $162 million of which have gone to the education sector.
The two-floor gaming area is currently occupied by slot machines and electronic table games. But even with the limited variety, the casino still managed to bring in the kind of crowd that other casinos in the country could only dream of having. Who knows, maybe the success of Resorts World Casino New York City and the revenue the government is getting from it would kick-start Governor Andrew Cuomo's drive to officially legalize full-scope gambling in the state.
If you thought Resorts World Casino New York City is doing great business now, imagine what would happen if they can offer actual table games to its customers.
Food for all of your thoughts.