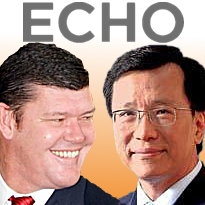 The ongoing saga surrounding Australian casino operator Echo Entertainment just keeps writing more chapters. Last week's decision by the Echo board to show former chairman John Story the door has temporarily defanged Crown Ltd.'s James Packer, whose bid to gain a Crown seat on the Echo board was built around a highly personal attack against Story's alleged mismanagement. With Story gone, Packer needs to find a new argument for why Crown's 10% holding in Echo deserves a board seat. Echo has decided to use this momentary calm to raise anywhere between $250m-$450m via a share offering. Trading in Echo was halted before the announcement was made, but the commotion regarding Packer's thinly veiled takeover bid has already boosted Echo's share price by 30% since February.
Speculation is now swirling around a possible tie-up between Crown and Malaysian conglomerate Genting, which surprised everyone on Friday when it announced it had taken an undisclosed stake in Echo believed to be worth 4.9%. A Reuters source claimed that Packer and Genting chairman Lim Kok Thay could meet as early as this week – the Sydney Morning Herald claims the pair have already met – to discuss a deal that might ensure Genting's support for Packer's Echo bid. In exchange (or so goes the theory), Genting could receive a cut of Crown's one-third share of Melco Crown Entertainment, the Macau casino joint venture with Hong Kong's Melco International Development Ltd. While Genting operates the highly lucrative Resorts World Sentosa casino in Singapore, it has no presence in Macau. However, sources told The Australian that Melco Crown's majority partner, Lawrence Ho, has pre-emptive rights on Packer's stake, and thus would be unlikely to sign off on such a deal.
In the latest twist, investment firm Macquarie Group announced on Wednesday that it has acquired its own 5% stake in Echo before the company halted trading. Echo's top shareholder list now reads as follows: Crown (10%); investment group Perpetual (7.4%); Macquarie (5.1%) and Genting (4.9%). But just to be sure, check back in an hour to see if Sheldon Adelson hasn't bought out the lot.