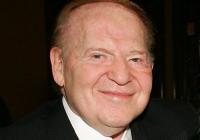 Sheldon Adelson's compensation package from Las Vegas Sands Corp has soared 22 percent year-on-year. The company chairman, chief executive and treasurer was paid US$13.8 million in 2011 according to a Friday proxy filing quoted by Macau Business. LVS owns and operates Sands China in the Asian market and it was revealed that Adelson wasn't even the highest paid person at the firm. Michael Leven, president, COO and secretary saw his take home increase 92 percent to US$23.5 million. He also gained $71.4 million after exercising stock options he had been awarded previously.
Rumors are doing the rounds that Crown chairman James Packer is exploring the possibility of pulling out of Melco Crown Entertainment. UBS Analyst Sam Theodore thinks the 66 percent rise in Melco's share price could force Packer's hand so that he can raise money to fund a bid for Aussie competitor Echo Entertainment. Theodore is quoted by Wall Street Journal's website as stating: "The key question for Crown will be: does the strategic rationale for holding Melco outweigh the significant EPS accretion in using it as a way of funding any Echo potential takeout."
Melco Crown is going great guns in the world's largest casino business location, Macau, and it would be a rash decision if Packer were to sell all his shares in the firm.
House prices in the casino business enclave of Macau have risen by almost 30 percent over the past year. The Financial Services Bureau reported the average price of residential units reached MOP53.011 (US$6,626) in March – up 28.7 percent compared with a year ago. The number of houses sold in the month also increased 175 percent to 1,265 compared with the month before