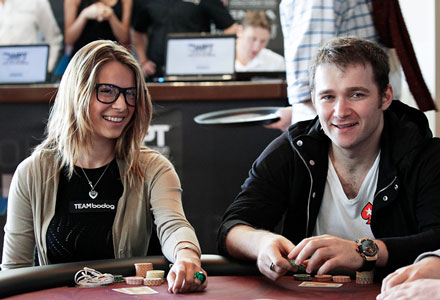 There are so many beautiful things about this city – the architecture, the music, the schnitzel and strudel…this is, without doubt, one of the most romantic cities in the world. However, Vienna brings memories that are more than just food and romance related – I have covered many tournaments here but this was the first time I played one as well.
Spending my Easter holidays in Zagreb wasn't such a great idea after all – my Mum is an Eastern European woman; which means I was force fed for a week all sorts of hams, cured meats, baklavas and cakes. Boot camp exercise, here I am again. This week I need to up my cardio to 60 minutes per day just because of her! One cannot say no to an Eastern European Mum, even Eugene Katchalov (@eugenekatchalov) will confirm that!
Driving to Vienna was really pleasant, I enjoyed the fact I didn't have to go through the plane security and weigh my bags. Four hours later and we were at our apartment – offloading and preparing for another adventure.
I decided to play Day 1A because my cousin is in town and I wanted to show her around. Learning from my previous playing experiences, I took some people advice and decided to calling McLean (@mcleankarr) to a last longer. I lasted way longer than him in the last 3 events, why would this time be any different.
Lee Davy (@chingster23), the official WPT blogger and a dear friend described our bet:
When we already started playing, we found out that the event is a re-entry. We never changed the rules so I assumed we keep them as they are. McLean busted not long after the 3rd level and I was pump fisting the air laughing at him imagining him in a Simba suit. However, he came and claimed that he did not bust because it's a re-entry and he still has a chance to win.
I tweeted the issue and got some confusing answers so we are still in the limbo on what we should do. In the mean time, I am looking at some costumes in case I have to wear one since I busted late last night. Any suggestions are welcome!
My first table was really fun – I had Jason Wheeler at the table and we spent the majority of the first level giggling and talking about food and recipes. Then Eugene Katchalov sat to my immediate left. Not the best left to have, IMHO but he was a true gentleman and very nice to me even when he took 3k chips from my stack. I had A9 and two nines on the board. He turned over his pair of fours and smiled: "I will put your 3k to a good use." He did keep his word, he is still in the Main, as opposed to me; busted to Bodo Sbrezny 99 vs. QQ.
My day finished by dragging myself home at midnight after a long session and packing to go to Zagreb for the morning to get my Thai visa but I am now on my way back to Vienna and ready for new experiences.
Hugs,
Tash xxx