After jumping back and forth between poker and law school for several years, 27-year-old Vanessa Selbst finally set poker to the side long enough to graduate from Yale's prestigious program earlier this year. She isn't actually an attorney yet since she hasn't taken the bar exam, but when she does – most likely in the next year or two, she says – she'll be able to punch her own ticket to a long and fruitful career, if her poker results are anything to go by.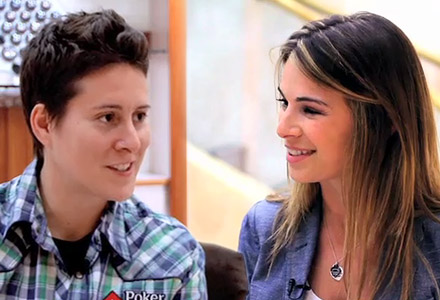 There's plenty of reason to think those results are a good barometer of a future law career for the Brooklyn-born, Yale-educated Selbst, who says she sees a lot in common between poker and law since they both rely on analysis and deductive reasoning. Her record of $4.9 million in tournament winnings since 2006 speaks to an uncommon talent for that kind of thinking, as does the fact that she built that total, the second-most ever by a woman, despite devoting herself to the game on just a part-time basis as she pursued her law degree. And then there's her consistency: all those winnings have come over a six-year span rather than being clumped all together in a single year of run-good. (The bit of run-good that was thrown in there – three major wins for $3.36 million over the course of a single calendar year – just makes her accomplishments that much more impressive.)
For the time being, though, law is heading to the back burner and Selbst is going to focus on poker once again. The WSOP is coming up in just a few months so she'll be able to focus on trying to win her second bracelet in an open event, which would tie her with Kathy Liebert for the most ever by a woman. She's also within a million dollars of surpassing Liebert's total of $5.82 million to become the winningest woman in the game's history. With plenty of opportunities after the WSOP to play both in the US and in Europe – where she won the Partouche Poker Tour main event a few years ago – it's not a stretch to think that she could add both of those accomplishments to her resume by the end of the year.
With a little more time on her hands now that law school is out of the way, she'll also be able to jump back into cash games. That's where she got her start nearly a decade ago, playing her way up the ladder to big-bet games with blinds as high as $25-$50 and $50-$100 before she began splitting all of her time between tournaments and studying. Though she admits to bit of rust having crept into her game over the last few years, Selbst is confident that she'll be able to return to form.
At the end of the day, confidence has been the key to Selbst's success – wherever she's focused her efforts. And wherever she focuses them in the future, whether on the felt or in the courtroom, that's likely to remain the case.