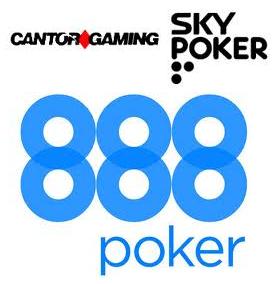 Cantor Gaming has  announced today that it will accept credit cards from most major issuers, including Visa, MasterCard, and Discover, to fund race and sports wagering accounts.
In a press release the company said the move was to "offer sports betting patrons a fast and convenient way to place wagers".
Race & Sports Book Risk Director at Cantor Gaming, Mike Colbert, said: "We are constantly looking for ways to enhance the enjoyment of our Cantor Race & Sports Books for sports wagering fans.  Making the method of payment more convenient marked a logical next step for our Race & Sports Books."
The Sky Poker TV channel has announced its new schedule after its re-launched on February 2nd this year.
Now being shot in brand new TV Studios at the BSKYB Headquarters in London, Sky Poker TV has promised a three one-hour live shows a week, and will feature our usual high-standard of expert commentary and in-depth analysis. Shows are set to be aired on Tuesdays, Thursdays, and Sunday between 7pm and midnight.
New debates are to be led by our team of professional Sky Poker presenters, including Anna Fowler, James Hartigan, Sarah Champion, and Richard Orford.
888poker has launched the 888 Race Horse Syndicate Tournament Series in partnership with Circuit Racing, giving players a chance to win one of 20 shares in a premium racehorse syndicate. Each 5% share is valued at £3000 and covers costs for training, vets, insurance and all other fees, for one year from the date of purchase of the horse.
As a shareholder in the syndicate, you will receive regular owner update reports, exclusive access to owner areas at races, invitations to private events hosted by Circuit Racing and voluntary participation in all partner meetings.
For the opportunity to qualify and win one of 20 valued shares for as little a $.55 buy-in. Simply play in the Race Horse Syndicate Tournaments running everyday on 888poker.com to win your ticket to the Race Horse Syndicate Qualifier on Thursdays at 20:05 BST. Every 2 weeks one 5% share will be awarded to the winner of the Thursday Qualifier.