More light has been shed on the alleged 'favors' granted by Japanese tycoon Kazuo Okada to Asian gaming regulators that led Wynn Resorts to forcibly buy out their single largest shareholder over the weekend. Okada, head of pachinko giant Universal Entertainment and backer of a $2b casino project in Manila, allegedly provided Cristino Naguiat Jr., the head of the Philippines Amusement and Gaming Corp. (PAGCOR), with a four-night stay at a 7k sq. ft. suite at the Wynn Macau which rents for $6k per night. Naguiat was also allegedly provided with $20k from the casino's cash cage during his stay.
A total of $110k worth of such "gross improprieties" are detailed in a report prepared for Wynn by a law firm which includes former FBI director (and current FairPlayUSA lobbyist) Louis Freeh. Universal claims it still hasn't been given "the opportunity to review" Freeh's report, but issued a statement saying Wynn's allegations were "motivated by self-interest and represent the results of an incomplete and otherwise flawed corporate governance process in breach of the board's fiduciary and other duties."
Wynn filed its own breach of fiduciary duty lawsuit against Okada on Tuesday in Las Vegas district court, accusing the Universal chairman, his associates and companies of engaging in "a longstanding practice of making payments and gifts to his two chief gaming regulators" at Pagcor. "Okada's conduct poses a direct assault upon, and a threat to, Wynn Resorts' reputation for probity, which is central to maintaining its stature in the gaming industry as well as its current and future licensing."
Universal shares fell 21% – the maximum plunge permitted per day in Tokyo – on Monday, the first day of trading following the weekend news. Okada has since filed a restraining order against Wynn to prevent it from taking any further action toward the forced buyout of Okada's $2.7b holdings. A Hong Kong analyst told Bloomberg that Okada "will try every means to overrule the forced redemption. The legal dispute is not going to end here."
In perfect 'tit for tat' timing, the suit Okada filed in January to pry open Wynn's books to study Wynn's $135m donation to the University of Macau will be back in court Thursday. Okada's allegations of "inappropriate use of corporate funds" prompted the US Securities and Exchange Commission to launch its own investigation into whether Wynn's donation may have contravened the Foreign Corrupt Practices Act, which bars US companies from bribing foreign officials.
PAGCOR PROTESTS
The Philippine Daily Inquirer reported that Okada personally visited the Pagcor offices on Monday to deny that he'd engaged in anything improper and apologized for involving the regulator and its officials in the donnybrook. Following the visit, Naguiat issued a statement in which he claimed Okada told him the Wynn allegations were "inaccurate." Naguiat stated that his complimentary hotel room stay was standard industry courtesy, something Pagcor reciprocates when foreign casino execs visit the Philippines. Naguiat rejected the notion that he or other Pagcor officials had received cash or in kind payments since he took over Pagcor's reigns in 2010.
Naguiat acknowledged that Pagcor officials had enjoyed Wynn's hospitality, but called it "highly unlikely" that the tab could have reached $110k between July 2010 to the present given that there were "only at least three official visits by Pagcor executives in Macau and Las Vegas combined." Naguiat declined to speak for the other alleged recipient of Okada's largesse, former Pagcor chairman Efraim Genuino. Pagcor's official line is that the matter is "an intra-corporate battle" between Okada and Wynn that isn't likely to affect Okada's Manila project "right now."
However, an unidentified 'legal expert' told the Macau Daily Times that the allegations Wynn has made public so far are but the tip of the iceberg. "Wynn has been pulling out the big investigative guns and has found ammunition … the $110k is pocket money compared to the amounts and dealings which the investigations have uncovered to date but so far this is sufficient to raise charges and start proceedings." The as yet unpublished allegations supposedly connect Philippine politicians and officials with land deals worth "hundreds of millions."
WAIT… YOU MEAN THIS ISN'T THE SHRINER'S CONVENTION?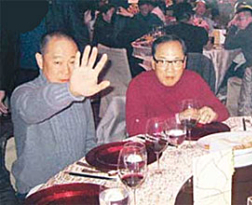 In other alleged Macau-related shenanigans, Hong Kong chief executive Donald Tsang Yam-Kuen is denying claims that he breached the city's bribery laws by accepting a luxury yacht trip to the gambling enclave last weekend. The brouhaha started after Tsang was photographed at a VIP club in the City of Dreams casino with known junket operators. (That's Tsang in the maroon turtleneck next to Mr. Five Dollar Footlong, courtesy of Hong Kong's Oriental Daily.) Hong Kong execs are required to report all trips, including personal travel, but Tsang's jaunt went unreported until the photo surfaced. The conspicuous absence of any Macau government figures at the City of Dreams soirée undercut Tsang's ability to claim he was there on official business.
Regardless, Tsang is putting up a brave front. He called public broadcaster RTHK and told them he was "saddened by the reports which questioned my integrity." Tsang rejected suggestions that he'd been treated like a high-roller during his stay. "I was not treated to any entertainment show; the only entertainment I had was to watch TV news. There was no karaoke, gambling or performances." Tsang claimed to have paid "market price" for his trip, and provided details of his breakfast aboard the luxury yacht, which consisted of "fruits, porridge and noodle." You almost had us there, Donald… Fruits alone, or just fruits and porridge, and we might have let it slide. But fruits, porridge AND noodle? That's Marie Antoinette territory, Mr. 1%…