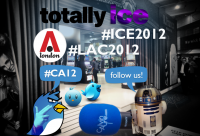 ICE Totally Gaming and the London Affiliate Conference are fast approaching. This time next week, you'll likely be suffering from your third mammoth hangover of the chaotic London conference calendar. We've already laid on all the party preparation you could possibly need. You should know the conference venues and dates. Now all you need worry about is keeping current with what's happening on the conference days themselves.
It's become commonplace at events around the world for live tweeting to be the way to keep your finger on the pulse. Sporting events, political uprisings, strip club shower shows… You name it, it's being live tweeted. Accordingly, the conference week in London will be a hotbed of social networking, and, as the number one place for gaming industry news, we're wholeheartedly embracing this phenomenon.
CalvinAyre.com's ground team will cover the conferences in all their glory via Twitter, keeping you up to date on all that goes down, as it goes down. Conference organizers have made this easier by releasing official hash tags for each event. For ICE (from 24th to 26th) the hash tag is #ICE2012, the London Affiliate Conference is #LAC2012, and for all the news first, use the #CA12.
I'll be in London next week, shaking hands and tweeting babies, so follow me here (@mistabill). And don't forget the rest of the team: when this pair isn't in front of the camera, Rebecca Liggero (@RebeccaLiggero) and Dana Workman (@danaworkman) will be tweeting their hearts out. Behind the camera, you'll find our creative director Anthony Dohm (@AnthonyDohm) and super producer Emily Leeb (@EmLeeb). And if you're not already following @CalvinAyre, do it now! It's the Twitter account to follow for the latest CalvinAyre.com articles and the odd gem of wisdom from the man himself.
See you next week!