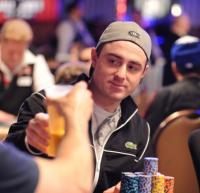 Chris McClung takes a huge lead into the penultimate day of the EPT's latest stop in San Remo. The Canadian strengthened a lead that he first vanquished on day three and is over a million chips ahead of his nearest challenger with a stack of 3,148,000. The field reduced itself down from 64 to 24 and players will be battling it out to see if they can make the final table and be in with a chance of the €800,000 bounty. Aussie Daniel Neilson continues to pursue as if McClung is a shrimp on the Barbie with the Italian pairing of Mustapha Kanit and Alessio Isaia close behind.
One of the more remarkable poker news stories of the week has been the presence of WSOPE winner Elio Fox and we wouldn't be surprised if he were to adopt the Northern Mediterranean coast as a second home. Might want to be reminded that you'd probably need to continue winning if you want to stay. The top ten in the chip count are as follows:
1. Chris McClung 3,148,000
2. Daniel Neilson 2,011,000
3. Mustapha Kanit 1,761,000
4. Alessio Isaia 1.524.000
5. Kevin MacPhee 1,441,000
6. Barny Boatman 1,257,000
7. Johnny Lodden 1,227,000
8. Jan Bendik 1,211,000
9. Andrey Pateychuk 1,200,000
10. Dimitar Danchev 1,196,000.
It's all rather small fry compared to the WSOP Main Event that gets underway in ten days time. In that vein the man sitting in third place Matt Giannetti has revealed the logo that he and rail will be wearing in this year's competition. Being a Texas alumni, it features the longhorn logo and we can only guess he's a fan of thrash-metal. Either that or his poker play now comes with a warning thanks to it being so toxic. It's an interesting proposition whatever he means by it.
German Pius Heinz has opened a new website in an effort to boost his profile ahead of November's tournament. The site can be found here and offered in English and German. The problem lies in that once you switch to English, the main article is still "auf Deutsch." You can't fault him for trying.