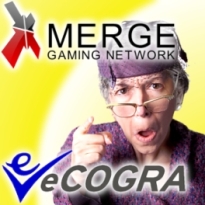 After putting the brakes on accepting new US customers shortly after Black Friday, poker skins on the Merge Gaming Network are apparently ready to re-open the floodgates. Citing 'sources close to the network,' PokerUpdate.com claimed Merge would be accepting new Yanks (unless they live in the District of Columbia, Kentucky, Louisiana, Missouri, Maryland, New York or Washington) starting at 10pm PST on Wednesday (12th).
This isn't the first time such a claim has been made; the welcome mat for new US action was also supposed to have been rolled out in June, then again in August, but this time it's for real, they swear. A mailout to affiliates provided such helpful (if misspelled) instructions as: "at this time Merge Gaming representitives do not want affiliates to heavily promote their offers to U.S. players" and that Merge didn't want to see "excessive logos with 'US Now Accepted!'"
Other logos Merge skins may want to scrub from their sites? Unauthorized eCOGRA seals. For the uninitiated, eCOGRA is a UK-based online gambling player protection and standards certifying outfit, originally founded in 2003 by Bwin, Microgaming and the company that ultimately became 888, before declaring 'independence' in March of this year. Recently, an alert 2+2 poker forum member named 'Poker Xanadu' noticed an eCOGRA Certified Software seal on the Merge site, even though Merge's name was conspicuously absent from eCOGRA's official list of 'approved entities'. Curious, he checked with eCOGRA, only to receive the following reply from eCOGRA CEO Andrew Beveridge:
Thank you for bringing this matter to our attention. Please be advised that Merge Gaming Network has not been reviewed for compliance with our Certified Software Seal requirements, and therefore should not be displaying the seal. Neither have any Merge-related websites or operations … been reviewed for compliance with our eGAP [Generally Accepted Practices] requirements. We will be insisting each of these entities immediately remove any reference of this nature from their websites, and to cease making claims relating to eCOGRA compliance on the forums.
This isn't the first time Merge or one of its skins has been caught pinning unearned medals to its chest. In August, Malta's Lotteries & Gaming Authority (LGA) took the unusual step of publicly rebuking Lock Poker for the unauthorized use of the LGA logo on Lock's homepage. At the time, Lock was still doing damage control in the wake of the Jose 'Girah' Macedo cheating scandal. We mention Macedo mainly because it segues nicely into this amusing image we came across in our 2+2 travels. Poker players certainly are a creative bunch.