The 2+2 online poker forums are abuzz with news that Lock Poker pro José 'Girah' Macedo has confessed to having scammed multiple online players in high-stakes no-limit action on the iPoker network. (View the 2+2 thread here.)
A player who goes by the name 'jajay1963' on iPoker claims that he had joined a strategy group on Skype in which Macedo was involved. In early July, Macedo offered to watch ImFromSweden's live sessions and offer coaching tips. During the session, ImFromSweden played heads-up against an iPoker player named sauron1989, who took $10k off ImFromSweden.
Ten days later, Macedo offered to watch jajay1963 play on iPoker, and encouraged him to go heads-up against sauron1989. Jajay1963 ended up losing $21,900 to sauron1989. Feeling something was amiss, jajay1963 reviewed the Skype chat logs. He discovered Macedo had been actively encouraging other players to take on sauron1989, painting him as an easy mark, yet Macedo never played against sauron1989 himself. Subsequent investigation revealed a suspiciously parallel pattern in which Macedo's logging on and off Skype mirrored sauron1989's logging on and off iPoker.
Confronted with this evidence, Macedo confessed and "promised to pay us back all of the money plus … pay compensation for the time that we had been forced to put in to unearth the cheating." Jajay1963's post was coordinated to allow Macedo to immediately post his own admission of guilt, which reads, in part:
"A while ago, I did something stupid. A friend of mine, who I introduced to poker, made a suggestion to me which was, I'm not going to sugar coat it, cheating. I had introduced this friend to poker and he was losing money, badly. He asked to play some of my poker friends and said why don't you sweat them and we'll see their hands. I don't know why I agreed. I don't know why I did it. I guess it was a mixture of guilt and stupidity and feeling ****ty for getting him involved in something which seemed to be bad for him."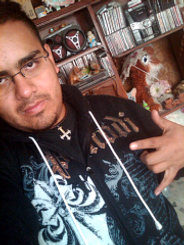 Macedo goes on to describe how, when he confessed to his mother, it became clear that "she was not proud of her son. She said how she hadn't raised me this way and what had poker done to me. That's when it hit me, how badly I had let people down. I felt ashamed, I had no explanation; explanations don't cut it in situations like this and often come across as excuses."
Speculation is now mounting as to the identity of Macedo's 'friend'. There is an "@sauron1989" Twitter account under the name "Oscar" that includes a photo (seen at left). Others are openly suggesting that sauron1989 was Macedo's alter ego. Whatever the truth, suffice it to say, the so-called 'poker prodigy' is now a bona fide poker pariah.
Macedo's brief tenure with Lock Poker has been a bumpy one. When he signed on in April, Lock CEO Jennifer Larson described him as "young, brilliant and incredibly determined. He will be heavily involved in developing the product, marketing and brand in the coming months. His story is one of determination to a degree that is just unparalleled and unrivaled. Lock moves into a new chapter with pros like Jose leading the way."
But it was less than a month into the relationship when Macedo was disqualified from the Bluff Pro Challenge for multi-accounting. At the time, Larson attempted to brush it off as a youthful indiscretion, but acknowledged that Macedo "broke some rules and that will not be tolerated by Lock. We pride ourselves in standing for trust, legitimacy and loyalty." Whoops…
Shortly after the news hit 2+2, a post appeared on PokerNewsBoy.com that claimed Lock Poker had dropped Macedo, but the post has since been scrubbed from the site. Macedo's photo is certainly nowhere to be found in the gallery of Lock Pros. Attempts to contact Larson to confirm Macedo's status as a Lock Elite Pro have been unsuccessful at the time this article was posted. Larson is known for relying on a strategy of issuing press releases in lieu of mounting a proper marketing campaign to keep costs down. Turns out she was right — you really can't buy this type of publicity.