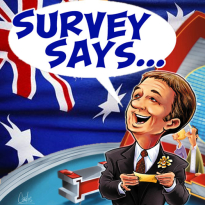 Anti-gambling proponents in Australia are heralding the results of an Australian National University (ANU) survey that shows there is "considerable support, even among people who gamble frequently, for the idea that people should be limited to spending an amount they nominate before they start gambling." Australia's federal government plans to implement such pre-commitment systems – which would require 'high intensity' poker machines ('pokies') to cap losses at $120/hour, rather than the current $1200/hour — by 2014. 'Low intensity' machines would be exempt from any form of pre-commitment.
The ANU Public Opinion on Gambling poll queried 1,213 people between April and May 2011 on pokies reform and other gambling questions, and found that nearly three-quarters of those surveyed supported the idea of gamblers being able to set their loss limits in advance. However, the survey did throw up a few wobblers. While seven out of 10 respondents agreed that Australia needed to more tightly control its gambling options, two-thirds felt people should have the right to gamble whenever they want and 42% said the government had no right whatsoever to place any restrictions on an individual's gambling behavior. Which suggests that a few of those seven out of 10 were just ticking boxes at random to get the survey over with – possibly so they could get back to gambling, we don't know.
Interestingly, when respondents were asked what type of betting activity they most associated with 'problem gambling', most fingered the pokies, but coming in second were horse and greyhound racing – the kind of betting that American politicians bend over backward to (a) defend from any kind of restrictions whatsoever and (b) subsidize at taxpayers' expense, while they simultaneously demonize online poker and sports betting as the sordid spawn of Satan. But we digress…
A separate Aussie survey conducted by PR agency Crossman Communications found that sports betting is increasingly a young man's (or woman's) game. Of 1,200 participants, 28% of the 18-34 demographic bet on sporting events about once a month, compared to 16% of the 35-49 crowd and just 10% of 50-64-year-olds. This will undoubtedly have the 'won't someone think of the (overgrown) children' crowd up in arms, but as noted above, better to have the young 'uns bet on sports than on those infernal dogs and ponies.