Heard it's LeBron day today, everyone gets to leave work 12 minutes early…Best LeBron joke I've heard.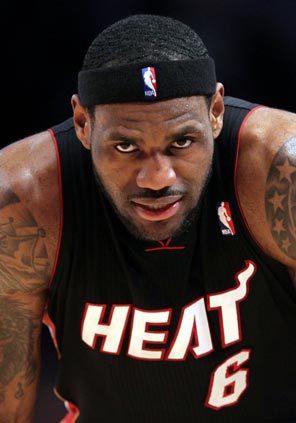 Whether he wins or loses, whether he shines or fades, people find a reason to hate on LeBron James, that's each person's prerogative, and maybe he's brought much of that hate upon himself. He's become an enigma, and the fact is those that have spent much of his career hating on him may one day look back and realize that they did indeed witness one of the greatest basketball players to ever play the game, and yet somehow that still might not be satisfying enough.
Whether it's his ego that bothers you, or his arrogance, the powder in the air, or the fact that since he's been in the league he's added so very little to his offensive game, or if it was the decision and the taking of his talents to South Beach, everyone has a reason for hating on LeBron James, and if they didn't, after the 2011 NBA Finals they do now.
Fact, LeBron James was created by the media. Name another player who had that much hype coming out of highschool.
Fact. Before he reached the NBA, heck, before he was of legal age to drink, he was already a millionaire and had a shoe deal.
Fact. They called him the King, ESPN even broadcasted his highschool games like they were NBA games. No superstar ever came up like that, so we can't expect LeBron to follow the same path or think the same way as past greats. That crown he wears is the people's crown, and now we want to strip it off, as if he hasn't earned it. He never did.
LeBron James wakes up in the morning everyday as arguably the greatest athlete we've ever seen. He wakes up every morning seeing no man as his physical equal. That's his reality. He didn't have to work to get the title of the King, he was born with it. I think that bothers many people, the fact that a man can roll out of bed, not work on his game religiously like a Kobe or a Dirk or Jordan and still be considered among the all time greats, without even a ring to show for it. That bothers people, bothers me. Maybe it should, but whose fault is that? LeBron James forces you to ask questions about yourself, like why you expect, no, demand that this man to do magical things.
When he got to the NBA, he somehow surpassed the initial expectations that were placed on him. So what did we do? We placed even bigger expectations on him. And when he surpassed those and led a team full of nobodies to the top of the league, some immediately called him the greatest and others said it wasn't good enough. Why did it have to be anything?
Were we so eager to be "witness" to LeBron's ascension into the greatest of all time, when it didn't happen, there had to be something wrong with him? Is it his fault that he's not a better player than MJ? How many times have you said after watching LeBron play, "Jordan would never have done that"?
For those who were on the fence about LeBron, the 2011 NBA Finals was a tipping point. After watching James destroy the Celtics and the Bulls we were witness to quite possibly the biggest choke show in NBA Finals history.
Everyone expected a legendary performance from LeBron, we were owed it for his actions in the off-season weren't we?
But instead he shrank in the moment, there's no denying that. He can maintain that he took what the defense gave him, but that's nonsense for a superstar to say and LeBron is using that cliché phrase incorrectly. If every superstar only took what the defense gave them, they wouldn't be superstars for very long, because the defense is designed to stop you. Being passive isn't the answer.
As the second leading scorer in the league this year, you don't allow the defense to dictate your game, you impose your will on the game and when the defense has to react, then you capitalize on the mistakes and openings the defense gives you. To be sure, it's a complete cop out. James shot around 20 free throws for the entire six game series against the Mavs. He averaged 9 attempts per game in the regular season. There's something terribly wrong when Mario Chalmers is going to the free throw line more than LeBron James.
We expect so much from James, perhaps it's time we realize that this man isn't who we want him to be. Maybe James knew that all along.
He's not Jordan. He's not Magic Johnson, he's not even Shawn Kemp, because Shawn Kemp balled out in the NBA Finals. He's LeBron James.
The weird thing about it is, people believe LeBron pretends to be something he is not. The truth is, LeBron has been very clear about what he is and what he wants to be. He wants to win, he wants to be a global icon, he doesn't care about legacy, he doesn't care about stats, he doesn't care about scoring, he just wants to win and be a global icon. He's not a leader, he's not the greatest player ever, that's why he took off the No. 23 jersey and said that he felt no one has the right to wear that number.
I always refer to the US Redeem Team to illustrate who I believe LeBron James really is. On a team full of stars, where each player had checked his ego at the door, remember the role that LeBron took. He didn't take the role of the scorer or the leader, he left that up to Kobe and Wade. He took the role that he was most comfortable with. That role was a defensive stopper, an aggressive rebounder, shot blocker, facilitator and a menace in the open court. That is his game. At times he can give you much more than that, but that's where he's most comfortable.
Why?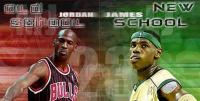 That's the whole point, because he's LeBron James, he's already the King, we called him that remember?
So if you're disappointed that the 6'8 260 pound juggernaut, blessed with the greatest athletic talent you have ever seen on a basketball court isn't living up to your expectations of what he should be, maybe you should lower your expectations and accept what he is, instead of what we wish he would be.
Because the truth is, he still is pretty damn special.
Here's another thing to consider. Scope LeBron's statistics since he entered the league and then compare them to your favourite all-time players. After you're done doing that, let's assume conservatively that LeBron plays until he's 34, that's 8 years from now, go ahead and project where his numbers in assists, points, rebounds, blocks and steals will rank for a small forward all time.
Now ask yourself if you think that in the next 8 years he won't have at least one ring to go with it.
While your asking yourself all these questions about LeBron, consider how much more interesting this entire NBA season, the 2011 NBA Playoffs and the NBA as a whole has become because of one "Decision" by the guy everyone loves to hate.