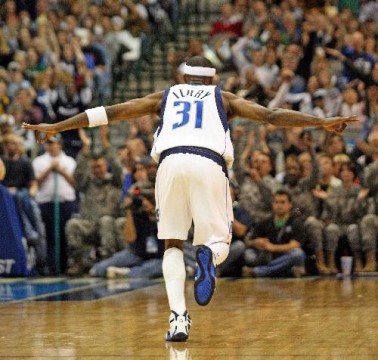 In a must win game 4, Dirk Nowitzki and the Dallas Mavericks showed a tremendous fight to battle back from a fourth quarter deficit to even the series at 2-2 with the Miami Heat.
Game 4 of the 2011 NBA Finals was one of the more intriguing games you will ever see. To begin with, Dirk Nowitzki was in no shape to play the game, he was battling a high temperature from a flu and he looked exhausted for much of the game.
In a Michael Jordanesque performance, the flu and the Heat couldn't stop Dirk from scoring ten huge points in the fourth quarter, including the game-winning basket that gave his team the 86-83 victory.
Tyson Chandler had his best game of the series with 13 points and 16 rebounds, including 9 huge offensive rebounds.
Dallas finally got contributions from their bench and role players. Stevenson poured in 11, Barea poured had 8, Terry had 17 and Marion chipped in 16 points.
But the real story of this game aside from Nowitzki's heroic performance, was the no-show game from LeBron James. Wade was spectacular with 32 points, Bosh was effective with 24 and LeBron James had 8 points. Yes, just 8 points. It wasn't from a lack of effort though, I mean James did take just 11 shots, managed to shoot just four free throws, barely attacked the hoop and looked disinterested in scoring when the Heat needed baskets, so actually, I guess it was from a lack of effort. It was LeBron James worst offensive playoff game of his career.
If James plays a below average game and scores 18-20 points, the Heat win the game easily. LeBron James can score 8 points in his sleep, so it's surprising that in game where the Heat had an opportunity to basically take a strangle hold on the series, James showed no aggression whatsoever.
With this series tied at 2-2, you can expect James to be spectacular for the rest of this series. The fact that Dallas finally had complete games from so many players and still had to battle to pull out a three point win when James scored only 8 points, should be a little troubling for Mavs fans. But a win is a win.
This is shaping up to be one of the best NBA Finals in recent memory, the series is now a best of three and the pivotal game 5 is set for Thursday.