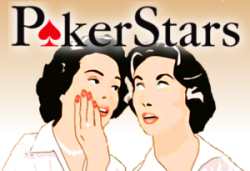 Over the weekend, Chris Levick made quite a stir by tweeting the following: "In a stunning announcement Poker Stars has withdrawn from the Australian market from August 1st. Devestating news." Understandably, this caused quite a stir in the online poker community (and not just because Levick can't spell 'devastating'), since it was just two weeks ago that the Aussie media claimed their country's federal police were cooperating with the FBI on an investigation of PokerStars' subsidiary, GP Information Services.
However, it soon became apparent that there had been no such announcement (stunning, or otherwise) by PokerStars. Before the day was out, VIP Manager "PokerStars Steve" posted the following to TwoPlusTwo: "The rumor that PokerStars has decided to block Australian players on August 1 is not true. If the company decides to block players in Australia or in any other country it will notify players accordingly." So was Levick just being an attention whore, or is PokerStars playing coy? Or all we are just a mite too jittery after Black Friday/Blue Monday? Remember, there are five more weekdays that don't have colorful adjectives attached to them… yet.
Jeremy Johnson
, the St. George, Utah businessman with
connections to two men indicted on Black Friday
– payment processor
Chad Elie
and SunFirst Bank vice-chairman
John Campos
– was arrested Saturday afternoon on mail fraud charges. IRS agents made the arrest on behalf of the US Attorney's Office for Utah, as Johnson was preparing to fly to Costa Rica from Phoenix. Johnson was already facing a Federal Trade Commission civil complaint for allegedly bilking as much as $289m from consumers via a bogus government-grant scheme, and the mail-fraud charge is a criminal extension of that case. Johnson is due to appear before a judge in Phoenix on Monday.
While Johnson has not been indicted in relation to the Black Friday case, he did conduct a significant amount of business with Elie and Campos. Johnson also had close connections with Full Tilt Poker, having invested some of FTP's money in oil drilling ventures and, oh yeah, personally losing over $1.5m playing on FTP between April and October 2010. The FTC noted in a court filing that Johnson had a "continuous business relationship with [prominent St. George businessmen Jason and Todd Vowell] – with whom the Johnson defendants worked to process electronic checks for the online poker entities PokerStars and Full Tilt Poker."
In a June 1 court declaration, Johnson stated "I have had numerous business dealings with the Vowells over the last 10-plus years, one of which was that the Vowells provided money transfer services for some of [Johnson's company] Elite Debit Inc.'s clients. Neither the Vowells nor myself have been indicted for bank fraud, money laundering or any other illegal activity. Apparently, the FTC believes it ought to create undue prejudice through guilt by association." Given the links between Johnson, the Vowells, Elie, Campos and the Black Friday poker companies, it's clear the Feds are trying very hard to prove there's more than just an association with guilt here.
Let's end on a healthy dose of perspective. While US authorities are making life very difficult for online poker players, things could always be worse. In
Kuwait
, the Interior Ministry's Criminal Investigations Department is also looking to clamp down on online gambling – on Facebook. Yes, even Zynga Poker is apparently enough of a corrupting influence that authorities are conducting "intense investigations" and promising that legal action will be taken against play money offenders. Can you imagine US outrage if Kuwaiti authorities were to pull Zynga CEO Mark Pincus off a plane on his way to a party in Dubai? He'd likely be released in a few months, but given that gambling is
haram
, they'd probably have chopped off his hands by then. Hard to Texas Hold Anything after that.
Comments