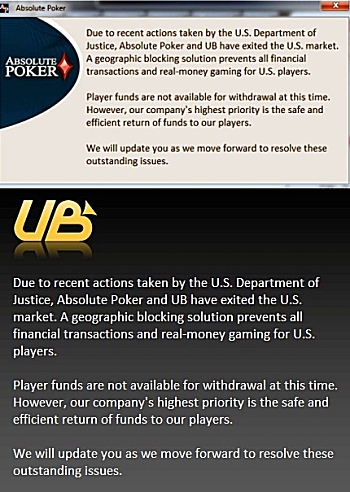 ✖ We got a kick out of PokerScout's not-so-news that US players were still being allowed to play real-money games on Absolute Poker and Ultimate Bet, despite their geo-blocking claims to the contrary (see pop-up screenshots). Given that such activities are explicitly prohibited under the deal AP/UB signed with the Department of Justice, their assertions that they are working diligently to refund US players balances ring even more hollow. Let's face it, if they're going to straight out lie to the DoJ, why would mere players take anything AP/UB tells them seriously?
✖ A message appeared on the CasinoMeister.com forum, reportedly from the management of European-based payment processor Quicktender, regarding funds transferred to US financial institutions via UseMyWallet.
"Over the past 2 weeks we have in good faith transmitted withdrawals initiated by Quicktender account holders to beneficiary bank accounts in the US. The money left our account in Europe. It was only in response to increasing complaints from our customers that we recognised there was a problem, and asked our bank to investigate. It emerges that the money has been accumulated in our bank's correspondent banking partners accounts in the US, and has been frozen. We suspect it is possible that these funds may be subject to a seizure order by the US authorities. We would stress that we do not have bank accounts in the US of our own, and that the funds have left our account Europe.
It is our express intention to ensure that the funds of our account holders are safe. For this reason we have decided to suspend future withdrawals until we understand what has happened to the money that has been frozen. If we continue to transmit bank wires into the US we could find that these funds also do not reach their ultimate beneficiaries. This would simply make the problem worse.
We ask our customers to bear with us in these difficult times. Please be assured that we have always honored our obligations in the past, and that we will make every effort to overcome these current difficulties. It is not in the interests of anybody to attempt to financially impact QuickTender further. These actions may impact the future viability of the company and the ability of the company to pay its customers.
We are assessing our current exposure, and how best to reintroduce withdrawals safely. We would like to take this opportunity to thank our customers for their past loyalty, and to reiterate that we will take all possible steps to ensure that our customers money is secure."
The question now arises as to when the US Department of Justice will issue its own statement as to what has happened to these accounts and who has been indicted and/or arrested. Rumors have been swirling that the DoJ was preparing to announce another round of indictments along with more account and domain-name seizures. (Perhaps they're just traditionalists, and are waiting until this Friday?) Needless to say, e-wallet options for US gamblers are disappearing faster than Newt Gingrich's presidential aspirations.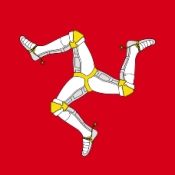 ✖ On Tuesday, the Isle of Man legislative council discussed amendments to its Criminal Justice Acts, specifically regarding cooperation between the IOM and other jurisdictions on criminal investigations of IOM companies and individuals. A debate arose over proposed wording that the IOM would act "on information or evidence" provided by other jurisdictions, with some legislators concerned that the phrase "on information" was too "elastic" and could lead to politically-motivated "fishing expeditions and malicious things." For example, was hearsay considered 'information'? Another legislator questioned why the word "reciprocal" was not present, i.e. is this a one-way street, with other jurisdictions getting to investigate IOM individuals/companies and not the other way around?
A Mr. Braidwood then raised the subject of Black Friday's impact on Isle of Man-registered PokerStars. "Funnily enough, just the other day there was a problem where there might be a criminal activity in the United States but it is not a criminal activity in the Isle of Man, and that was with PokerStars, and that could be a political motivation because banks in the States are not allowed to accept any money for online gaming. However, in the Isle of Man it is not a criminal activity. So I think there is a significant amount, you could say, of political motivation behind that. If a request came from the United States on this, would we, or the Deemster [a high court judge], have to issue a warrant to go into such offices as PokerStars here to try to obtain information?"
In the end, the legislators approved the first reading of the reworded bill. And somewhere, presumably, Isai Scheinberg shed a silent tear.