The list of dramatic Black Friday announcements has slowed somewhat, but here's a few items of note: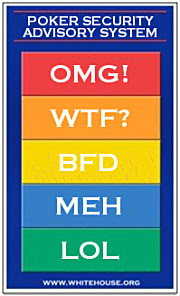 ✖ Following yesterday's announcement that players at PokerStars and Full Tilt will (at some point) get their money back, it's been suggested that Black Friday should be painted a different color, you know, like the old terror code. Early frontrunners for replacement colors include Dishwater Grey, Puke Green or Shit Brown.
✖ The Las Vegas Sun reports that some of the Nevada legislators that PokerStars had listed on their campaign donation list are claiming that they never received any funds from the poker outfit. The nine Democratic Assembly members in question are listed as having received a total of $14k between them, yet bank records show no trace of the checks being cashed. Where the money ended up remains a mystery. Stars' lobbyist (and former Assembly speaker) Richard Perkins claims his figures came from a Stars-supplied spreadsheet. Stars also apparently neglected to file a final campaign report for the election cycle, as required by law.
✖ It should come as little surprise that Nevada State Sen. Greg Brower — who has been hogging the headlines with his increasingly vocal demands that the Sec. of State, the FBI and several Jedi Knights investigate PokerStars' lobbying efforts – has his eye on national office. Brower apparently told the Nevada Republican Party chairman that he was seriously considering making a run for the House of Representatives in Nevada's 2nd Congressional District. In every crisis, it seems, there's a political opportunity.
✖ Interesting tidbit in the National Law Journal suggesting the mutual dislike between PokerStars and Caesars Entertainment caused a noted Supreme Court litigator to part ways with a firm that lobbied on Caesars' behalf. Thomas Goldstein of Goldstein, Howe & Russell (who counts PokerStars as a client), abruptly left Akin Gump Strauss Hauer & Feld this January. At the time, Goldstein said only that a major client had asked him to take on additional duties, and that said client had a "love-hate relationship" with an Akin Gump client. Akin Gump has lobbied for Caesars since 2009. FYI, Goldstein, who has also represented the Poker Players Alliance, is an avid poker player. In 2008, Goldstein told Legal Times that poker had "great analytical benefits. You learn a lot about people, too. It's very social." Sure, but apparently you don't want to seat Stars' owner Isai Scheinberg and Caesars CEO Gary Loveman at the same table.
✖ While Interpol believes three Black Friday defendants are currently residing in Costa Rica, it relies on local law enforcement to make arrests. Inside Costa Rica reports that Francisco Segura, deputy director of the country's Judicial Investigation Organization (OAJ), said he wasn't yet aware of any arrest warrants. However, Segura claimed he would act on such a warrant if one were submitted.
✖ Antigua, which has had its own run-ins with the US gov't over the issue of online gambling, has made clear its disappointment at the Black Friday indictments. The Honorable Harold Lovell, Antigua's Minister for Finance and the Economy, said he was "concerned that at this point in time US authorities continue to prosecute non-domestic suppliers of remote gaming services in clear contravention of International law. I am not aware of any other situation where a member of the World Trade Organization has subjected persons to criminal prosecution under circumstances where the WTO has expressly ruled that to do so is in breach of an International treaty." Antigua, which won a 2004 WTO online gambling ruling against the US and every subsequent appeal thereof, is currently negotiating with the US Trade Representative over compensation for damage caused to their economy by the US actions.
✖ Concerned that the Department of Justice seizure of Full Tilt's dot-com site "is hampering and potentially adversely affecting its lawful operation elsewhere in the world," the Alderney Gambling Control Commission has announced it will "undertake its own investigation into these allegations" as well as a review of Full Tilt's current licensing agreement.
✖ The TV production crew that bailed on filming the latest segment of Full Tilt-sponsored The Poker Lounge after FT's check failed to arrive in time is reporting they've worked out an agreement with FT that will allow filming to be rescheduled for May.
✖ Finally, this site's liberal use of photos of Destiny Davis – the buxom Playboy Playmate that married payment processing defendant Chad Elie the day after his arrest and helped post bond at his subsequent court appearance – has apparently gotten under some of our female readers' skins. Calvin Ayre posts many of our Black Friday updates to his personal Facebook account, and Wednesday's update brought the following response:
Good articles, but do I really have to have a naked woman staring at me? I guess you don't care to have female readers? … It's your site and you do whatever you like. It did make me skim the article instead of reading it though. Which is a shame because I like your articles – a lot. You have done some great reporting on this issue.

Given that the media company that operates this site is headed by a woman, we cherish each and every one of our female readers. And, as equal opportunity offenders, we recognize the need for equal time. So please enjoy this shot of Destiny Davis' husband, Chad, and Chad's awesome handlebar mustache. You know, if you turn your head to the right, it looks like it's a capital 'C'. You know, like, for 'Chad'. Awesome…