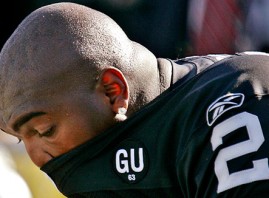 What do you have to do to be able to sit out an entire NFL season and still force the team that drafted you first overall to fork out $61 million with $32 million guaranteed? What do you have to do to get released by the same team you took to the cleaners a few months after the season ends? What do you have to do to get busted for sipping "purple drank"? And finally, what do you have to do to get fired by a life coach, who you hired to help you? The answers to these questions can be summarized quite simply, you don't have to do anything, you just have to be JaMarcus Russell.
According to Jason Cole of Yahoo! Sports, Life coach John Lucas has fired JaMarcus Russell and asked him to leave Houston. Russell had been planning his return to the NFL since being shown the exit by the Raiders and now that comeback has hit a major snag.
But to be frank, Russell's comeback never really had any momentum. He did have a workout with Redskins last season, but he came into that workout grossly overweight and didn't impress anyone. He had another workout with the Dolphins when their QB's were dropping like flies last season and Russell came to that workout even more grossly overweight and somehow even more un-impressive.
John Lucas is one of the more respected inspirational sports figures out there. He's an excellent coach, and from all accounts, he has an extensive reputation as an outstanding life coach. So for John Lucas to turn his back on Russell that means Russell has turned his back on everything and he's no longer making an effort.
It's unfortunate because Russell appears to have the potential to be a QB in the NFL but he seems hell bent on throwing it all away. He's got the body, he's definitely got the arm, but his head has never been into it.
Apparently, Codeine is one hell of a drug.