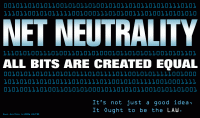 If you mention Washington Dc and anything to do with online gaming right now most will presume that you're talking about a federal online gaming bill. This isn't the only chatter at federal level that is likely to interest those in the online gambling space though.
Last summer the FCC unveiled their plans for a net neutrality plan that would keep the Internet a level playing field in the United States and mean that innovators would get the best deal. This was all while Google and Verizon's new partnership was looking in the complete opposite direction as they had tentative plans to create a two-tier system.
Currently the FCC proposals for net neutrality are being debated in the House of Representatives who are looking at repealing the FCC's proposals on net neutrality that were passed late last year.
Even if it does get through the House it's unlikely to gain enough support in Congress so that it goes to the President. It's a good thing it won't get that far though.
In terms of the online gaming industry, a one tier Internet that sees everyone as equal is a must. It means the innovators of new products won't be stunted as they strive to make what might be the next online gaming industry cash cow.
Net neutrality isn't just good for the online gaming industry though. Global civilization also benefits from the net being neutral in a country the size and stature of the US. If it fails in the North American stronghold it's likely that it won't take much in the rest of the world for it to fall.
Too of the biggest nations on the planet, India and China are strong on censorship and if the US repeals the net neutrality it's difficult to see Europe bearing the brunt of net neutrality.