The Berlin stop on the European Poker Tour (EPT) concluded last night as another youthful poker player took home the title. 22-year-old Canadian qualifier Ben Wilnofsky won a key hand at the start of the day to turn the chip count upside down. From there on in it was relatively plain sailing. Best known for his play online, this was the Canadian's first EPT cash as he took home the €825,000 purse and the Shambala bracelet that comes with it.
Wilnofsky's win came as he beat German Maximilian Heinzelmann heads up and luckily there was no repeat of last year's heist for which this stop on the EPT had become known. With the win, Wilnofsky grabs a place in the EPT Grand Final, Champion and Champions tournament, and will be looking forward to the next stop on the EPT in San Remo, starting on 27 April.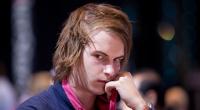 Another Sunday also meant the latest contestant came to Isildur1's online poker dungeon to take on the SuperStar Showdown. This week's opponent was Scott "urnotindangr" Palmer, who returned for the second leg of his clash with Viktor Blom. Palmer had become the latest player to beat Blom at his own show but this week the formidable Swede was taking no prisoners.
The four and a half hours of no-limit hold'em comprised the full 2,500 hands as Blom ended up $66,607 on the day and $61,182 up over the two games that made up this contest. PokerStars are yet to announce Blom's next opponent and after losing his first showdown Isaac Haxton, Isildur1 has been in imperious form.