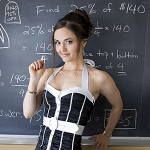 Faced with a government-mandated pre-commitment scheme that would compel video poker machine (pokie) players to set their limits before commencing play, Clubs Australia is challenging the math that led to the scheme. Figures reported last year by the government's Productivity Commission claimed that problem gamblers were responsible for 40% of pokie revenue. This, in turn, led to anti-gambling politicians like Sen. Nick Xenophon endorsing such a pre-commitment scheme, rather than have the government be seen as preying on the addicted.
However, Clubs Australia president Anthony Ball takes issue with that 40% figure. Ball notes that the Commission's own report identified 95k problem gamblers who spent an average of $21k annually on pokies. Ball then multiplied 95k by 21K and came up with $1.995b, which represents 16.8% of the total $11.9b revenue taken in by the pokies. In Ball's brain, problem gamblers are accounting for 16.8% of total expenditure, less than half the 40% figure stated by the Commission, and this means a far greater majority of recreational gamblers are driving pokie revenues. Less problem gambler revenue, no pokie problem, right?
Whether the Australian parliament buys into Ball's math remains to be seen. But it does show the discrepancies that can arise when different people interpret the same sets of numbers. For example, in Thailand, the Phuket Provincial Police reported 40 premeditated murders in 2010 compared to 45 such crimes in 2009 (a drop of 11%). Meanwhile, cases of "general gambling" were up 13% on the year. Given the way we view the world, this means that the more people in Phuket that gamble, the less people in Phuket they kill. The gambling industry is ready and willing to accept your gratitude, Phuket.
Comments