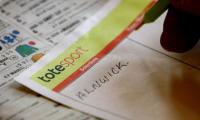 The gambling industry's very own game of Family Fortunes seems to be playing out as we enter the final days of the bidding for the Tote, which is expected to reach a sale later this month or early next.
Late last year those who were looking at the government owned business with inquisitive eyes were wittled down to a field 12. Earlier this month two fell trying to jump the first fence and this week parliament is expected to announce that at least three bidders have made it through to the second round.
Although a report in the Daily Mail this morning seems to think that several of the bidders are merging ahead of what is being dubbed the All Star Family Sale Of The Century.
Rumours are rife that Sportech has now teamed up with bids from former Ladbrokes boss Chris Bell and British Airways chairman Martin Broughton in order to try and buy the government owned bookmaker. Others still in the running are believed to be the strong bids submitted by Betfred and Gala Coral, interest from Paddy Power said to be waning. After contacting Sportech they chose not to comment to the rumours regarding a possible merger.
The sale is expected to fetch the government around £200million, which the country's struggling economy could really do with. It might also be worth the government investing in a PR guru, such is the parlous state of their affairs right now, or even ask the BA boss Broughton for complementary earplugs and eye masks. If you can't see it or hear it, it's not happening!