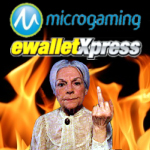 Fresh off the expansion of its casino offering for the mobile Android OS, Microgaming will debut a real-money Android poker app later this quarter. A demo version modeled on Microgaming's Flash platform, Fast Track, will be on display next week at ICE Totally Gaming. Lydia Melton, Microgaming's poker point person, was positively giddy when she proclaimed that "The technology is ready, the software is ready, and we believe the players are ready as well. The future is here." The announcement comes just a day after bwin announced a similar product for the iPhone and William Hill released 'optimized' versions of its own betting app for Android. Seriously, last one into the mobile gaming sphere has to release a Windows Mobile product!
Since it ceased operations in November, eWalletXpress hadn't publicly commented on the reasons behind its closure. However, a statement was recently issued in which the Canadian-based payment processor confirmed that its "funds and accounts were seized by the United States Government as part of a confidential investigation." The company claims to be "negotiating" with "U.S. investigating agencies" but acknowledges that players' funds are "no longer in our custody or control."
Finally, gamblers at Minnesota's Mystic Lake Casino got a rude awakening Thursday morning when the joint caught fire. Though the blaze was under control within 90 minutes and contained to an area that was already off limits due to remodeling, casino staff thought it best to shift patrons to the far end of the vast gaming floor. But some, like 77-year-old Irene Weingartz, weren't that keen on being protected. Weingartz told the Minneapolis Star Tribune that she was working a slot on which she had a $110 bonus when the fire broke out, and she wasn't budging a foot until someone cashed her out. Recognizing a determined character when they saw one, Mystic Lake staff obliged her request. Hell, she's 77 – who knows how many more pulls the old girl's got left in her!