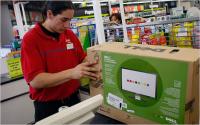 It's fair to say that if there's one thing the online gambling industry would be nowhere without it's the computer and other related devices. Without their invention we'd still be hanging around in the community betting shops dreaming of a trip to Vegas to spunk all our cash on the slots whilst getting married in the process.
A report from Deloitte has identified that the bread-and-butter of the industry, mentioned above, is set to double by 2014 as sales surpass the billion mark.
Paul Lee, the director of technology, media and telecom research at Deloitte, said: "Computing is becoming more portable. At the same time people are not substituting one device for another, they are accumulating." He also added that three years from now will see smart phones "dominate" sales, while tablet PC sales will be roughly half that of netbooks.
Deloitte also predict 2011 will be the first year that smart phones and tablet PCs will outsell traditional desktop computers, laptops, and netbooks.
This news will be music to the ears of many in the gambling industry that are aggressively pursuing mobile as the next port of call for expansion, especially in the UK. Mobile has already been identified by many in the industry as the biggest sector of growth in the gambling industry and these findings significantly back up the findings.
Don't throw away every other computing device and go out to buy an iPhone and iPad just yet though.
Deloitte said. "Traditional PCs will still be the workhorse computing platform for most of the globe in 2011," sales of PCs expected to rise by around 15% this year.