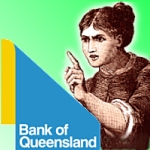 Banking regulators Down Under are hopping mad at the Bank of Queensland (BOQ) over the recent announcement of its Save To Win accounts. Customers who open such an account would forego the average 3.5% annual interest rate in exchange for a monthly shot at winning $20K via a random drawing. So a customer who deposited $1K would be giving up a guaranteed $35 a year for a slim chance at a potential jackpot. (Are pigeons allowed to open these accounts?)
David Liddy, BOQ's CEO, has come under fire for initially saying that bank regulators had approved the scheme. A BOQ spokesman was subsequently forced to walk back this claim, clarifying that approval had only been granted by state lottery commissions.
Naturally, anti-gambling Senator Nick Xenophon has railed against the BOQ for inciting people to gamble. However, as the Salvation Army's head of problem gambling services noted, problem gamblers aren't savers. In other words, this scheme would likely have zero impact on their behavior.
Honestly, we don't see what all the fuss is about. Customers aren't risking anything here. Their capital deposits are not on the line, and nobody is forcing them to open one of these accounts. Liddy says BOQ came up with the idea because it was unable to compete with the interest rates offered by larger banks. Which is pretty innovative, when you think about it. The guy should be applauded, not vilified.
Comments