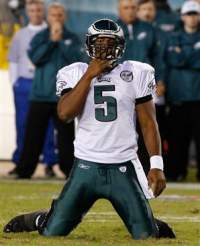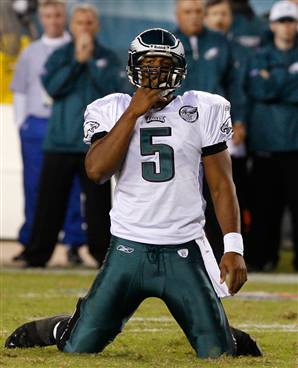 This NFL Sunday will feature one of the more intriguing matchups of this early and exciting NFL season. Bettors and sportsbooks are eating this game up for various reasons. For one, it's a props bonanza. Will the fans Boo McNabb or cheer him? Or both? Which QB will throw the most touchdowns? Most picks? The list is endless. The other thing is, this just isn't another game for either team, it's a divisional game, so these two teams will be playing for blood.
Donovan McNabb who isn't arguably, isn't maybe, but IS the flat out, hands down best QB in Philadelphia Eagles history. Now he is heading back to the city that never loved him, a city that never truly embraced him and he's coming back leading the rival Washington Redskins. All McNabb did for the city of Philadelphia and the franchise was make them a perennial contender, yet he's consistently judged on not having won a Superbowl. It's funny, you don't see Dolphin fans angry at Dan Marino.
But there's a twist to this story, a man shrouded by hate for his actions, Michael Vick was taken under McNabb's wing and McNabb mentored Vick during Vick's first season back in the NFL after well, you know. Now, Michael Vick isn't the Vick of old, he's better. He's as fast, and more accurate than ever before and he has the Eagles rolling and the city screaming Vickadelphia! Goosebumps. This is why the NFL is most watched show on American TV, becaue you can't script this stuff, but you sure as hell can bet on it!