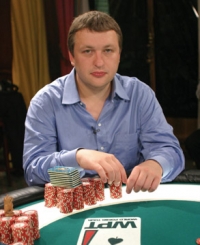 Last month we reported about how Matt Marafioti got so wound up by Daniel Negreanu that he challenged him to a cage fight. Bit extreme perhaps. But then when you think of the sums some of these poker pros are playing with and the hours of patience they have to endure, you can see why they blow up every once in a while. Victims of their art, sacrificed at the altar of trash-talking.
Love it or hate it, trash-talking is a part of poker. Although the US courts would have us believe otherwise, poker is a game, above all, of great skill and a player's ability to read other people is just as important as weighing up the strength of their own hand. That being the case, if you have the ability to throw your opponent off their stroke then you will use it to your advantage.
Players will use trash-talking for various reasons: to lure an uncertain player into making a mistake, disguise the fact that they themselves have a rubbish hand or purely for shits and giggles. Sometimes it's the only way take out your frustration at a bad day at the felts.
If you're faced with a trash-talker when you're playing online it's not so bad, because, unless you make some calamitous decisions, your opponent can't really see how wound up you are. And if they're really getting on your tits, you can always turn off the chat option.
But when faced with a trash-talker in live poker, it's a little bit more difficult to ignore them. You see trash-talking in all walks of life. Particularly sport. John McEnroe made a career out of throwing hissy-fits on the tennis, David Haye loves a good bit of needle before his fights for similar attention-seeking reasons and you could write a book about the number of time José Mourinho's has got under his rivals' skin.
If you're going to use trash-talking yourself, you'd better have the game or the chin to back it up. Phil Hellmuth, Mark Matusow and Tony Guoga are probably the three best exponents of what Aussie cricketers call sledging, but they've got the bank accounts to back it up.
Personally, I don't mind being confronted by a trash-talker because I am aware enough of my limitations to worry about what another player thinks of them, and the more someone gives it large at the table, the more they are giving away about themselves.
Every time I see Hellmuth mouthing off on TV, he invariably ends up making a cock of himself. If he has a weakness, it's the fact he takes himself too seriously. But that's why he's great to watch. You never know when he's going to blow up next. You get the feeling he's contractually obliged to throw his toys out of the pram.
Five classic trashtalking moments in poker
5. "If Robert Marconi wins [the World Series of Poker 2002] I'll shave my head."
Marconi won, and promptly shaved the Poker Brat's barnet off.
4. After being accused of stealing a $500 chip during the 2006 WSOP by Prahlad Friedman, Jeff Lisandro snaps and threatens to "take your head off".
3. Dutch Boyd: "You're so old you look like my father."
Dave 'Devilfish' Ulliot: "If I was your father you'd be a lot better looking and a lot fucking smarter."
2. During the International Poker Championship Tony G wound up Ralph Perry into calling him and getting knocked out of the tournament, during a hand in which the Australian berated him remorselessly saying "You're a terrible player", "Bring more Russians", "Feel my powah", and "On your bike."
1. Wild Bill Hickok was shot in the back of the head while playing poker in Nuttal & Mann's Saloon, Deadwood, 1876. Wild Bill was holding two pair in his hand when he was shot holding aces and eights, which is still to this day known as, "Dead man's hand." Nobody quite knows what was said, but suffice it to say, the being wild didn't quite work out for Hickok.
Lastly, this has nothing to do with poker whatsoever, but remains my favourite put-down of all time. Australian cricketer Glenn McGrath will regret the day he took on Otto Brandes, South Africa's tubby no11 at the mind games):
McGrath: "Why are you so fat?"
OB: "Because every time I fuck your wife, she gives me a biscuit."