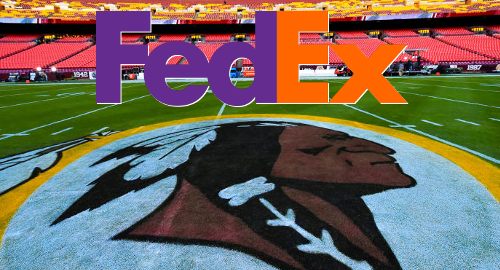 The National Football League's Washington Redskins are feeling the corporate heat over their controversial name, while Barstool Sports doubles down on its woke trolling efforts.
On Wednesday, Adweek reported that Redskins corporate sponsors FedEx, Nike and PepsiCo had received letters signed by 87 investment firms and shareholders with a combined worth of $620b asking the sponsors to pressure the team to change its name, which Native American groups (and anyone else with a conscience) have long derided as a racist anachronism.
On Thursday, FedEx blinked, announcing that it had "communicated to the team in Washington our request that they change the team name." Quite apart from the fact that FedEx couldn't even bring itself to say the team's name, FedEx pays $8m per year for naming rights to the team's home stadium and FedEx chairman/CEO Fred Smith holds an ownership stake in the team.
The other corporations targeted in the letter have yet to publicly comment on their own intentions, but public pressure will undoubtedly mount as word of FedEx's statement circulates.
The team's majority owner Dan Snyder has long vowed not to bow to pressure to change the team's name, based in part on a desire not to mess with the team's history, which dates back to 1933. As recently as 2013, Snyder said the team would "never change the name … NEVER."
(On that note, Snyder has a lot in common with the late mayor of Toronto, the crack-smoking Rob Ford, who once told a Toronto sports radio program that the Redskins controversy was no big deal, while wondering if Cleveland's baseball team was going to have to rebrand as "the Cleveland Aboriginals.")
But Snyder, who is trying to negotiate a return to Washington, DC when the team's current stadium lease in Maryland expires in 2027, was recently told by DC officials that the team isn't welcome under its current identity. That will limit his leverage with the other states he's attempting to play off each other for sweeter tax breaks.
The pressure on the team has ratcheted up dramatically following the death of George Floyd and the ensuing public protests over racial injustice in whatever form. Regardless of what action Snyder takes, the issue appears certain to become yet another flashpoint in the perpetual culture war in which certain segments of society reject anything they view as overly 'woke.'
Speaking of, Barstool Sports is causing yet more headaches for its new minority owners Penn National Gaming by unveiling new content featuring the N-word. Wednesday saw the debut of an episode of its 2Biggs podcast titled "Barstool N.I.G.G.E.R. (Now It's Gonna Get Extremely Real) feat. The Minority Report."
The episode, which came just days after Barstool founder Dave Portnoy refused to apologize for racist statements he made in the past, featured some of Barstool's black contributors discussing some of Portnoy's more controversial comments and his apparent disinterest in atoning for his past sins. 
Yet on Thursday, Portnoy released a video apologizing for some of those very same statements, explaining that he was "just trying to be f**king funny." Allegedly, after discussing the issue with his staff, Portnoy came to the conclusion that "I can be better." Be sure to tune in tomorrow, when Portnoy apologizes for his apology and then goes on a 10-minute rant about Mongolians or something.