Jesper Kärrbrink is always thinking ahead, leading Green Jade Games to be an industry innovator. That forward thinking ability makes him an interesting man to talk to, especially during these times. After their panel at SiGMA ICE Asia Digital, our Becky Liggero Fontana caught up with Kärrbrink for the latest episode of The Long Con, to talk about the state of the industry during the COVID-19 pandemic, and how people can innovate in their own lives while they stay at home.
One of the feared changes from the pandemic has been an increase in gambling regulations, and Kärrbrink fears that over regulation could punishing the regulated market, driving players to internationally regulated sites. "Regulations are positive for the industry," he was careful to note. "Regulations are positive for the people who has a problem with playing. That means that we put more efforts on problematic gambling, you focus resources on problematic gambling and you impose certain restrictions on the gaming companies so they can balance this."
But just because he agrees regulation is necessary doesn't mean he accepts what he's currently seeing. "What we see now is, I don't know, its political nonsense," he said. "Someone is trying to look as powerful or action driven politician or whatever, they're just making decisions without really looking at the data. Because what they are creating now is, they are actually risking the perfect model, or near perfect model."
In his predictions for 2020, Kärrbrink predicted two things: an opportunity for mergers and acquisitions as the industry contracts, and plenty of innovation. The former seems likelier than ever. "Being a non-digital gaming company today, I think you realize that being a non-digital gaming company has its risks," he said. "And perhaps you should balance this with having a larger portfolio of online gaming. So I think we could see some of the more traditional brick and mortar companies actually moving into, faster, into the online. Either they do it by investing more, or they do it by merger and acquisition."
The latter, on the other hand, has been understandably derailed. "We believe that there's a fantastic market for slots, and people love to play them, and we should continue developing slots," he said. "But there's really no innovation in slots. They are very much the same and we kind of polish the same silver bowl year after year, after year. And that's good, there's nothing wrong with that. But what we decided to do in Green Jade is invest in innovation, try to make games that no one made before."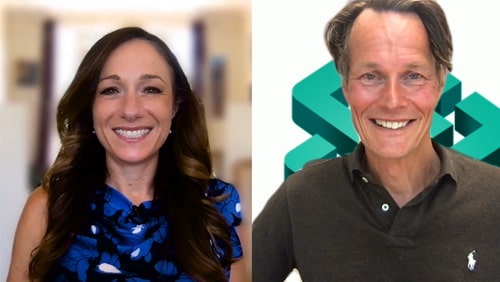 For the smaller organizations that are hoping an innovation might save them, Kärrbrink suggested focusing on staying alive, but keeping those ideas ready. "What I think is, after this, there will come out a lot of good ideas," he said. "Once again, back to the boat, there's a hole in the boat someone will come out with this brilliant idea about how to solve it. But we can't solve it right now because there's the Covid. Save that idea until times are a bit better again."
Kärrbrink isn't just full of ideas for the industry though, he's also got great suggestions for how we can stay entertained and better ourselves while we stay at home. "One of the best opportunities right now is to do kind of, Zoom fitness classes or Yoga classes," he said. "And you can even have gaming evenings, where you're playing games. I'm playing, perhaps a bit ridiculous, a lot of Backgammon, me and my wife. And we're actually playing in the series in Stockholm. And when the pandemic broke, the series stopped of coruse because we can't be that many people in the same room. So we organized this digitally. So we're playing backgammon, we connect via Zoom, and then we play over the internet, I arrange a table, a fixture, and then we play."
Watch the full video to see Kärrbrink expand his thoughts on all of these topics, and generously share his wisdowm. Also, don't forget to subscribe to the CalvinAyre.com YouTube channel so you don't miss any of the great video content we're putting out.