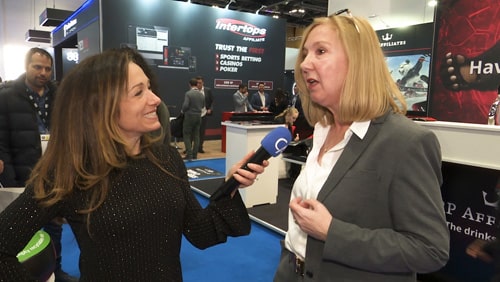 While there can be plenty of competition between affiliates, they all have the same goals in common and can benefit from working together sometimes. For that, there's now the Safe Affiliate Programs, and at ICE London 2020, our Becky Liggero Fontana caught up with Ellen Learmonth of Golden Euro Affiliates to understand how this partnership benefits everyone.
Learmonth explained the basics of the group, and their common goal. "It's a collaboration of several brands that have come together to help each other, and affiliates, in a unification that supposed to be safe environment for the affiliates," she said. "What we are trying to do by saying 'safe environment' is that we all have one common idea about the integrity of the business, the honesty and clarity, and we want to portray that. And we want to tell the affiliate, 'These brands are safe for you.'"
The group is getting their name out there, and they are doing it by providing value-added services. "Sign up on the website where you can sign up for a newsletter, and the idea is that you can you reduce your inbox," Learmonth offered. "So you get the news of all the brands that are under this umbrella, Safe Affiliate Programs, and we're trying to bring more to the table as well. So we're trying to add some added value to the newsletter, so something that you wouldn't get for the individual brands. That's one thing, but secondly it's a common inbox so if you have a problem with a program that is part of Safe Affiliate Programs, then you have a challenge to drop an email to Safe Affiliate Programs and ask them to fix that for you. Because sometimes you don't have such a close relationship with maybe one of the programs in this group, but a very close relationship with another. And we can intermediate within this group."
While the Covid-19 pandemic has certainly put a dent in the group's live event plans, they have thought up a few ideas. "So the way this is actually started was that a couple of befriended programs already shared an affiliate dinner, to make it easier for affiliates to share their time basically so they wouldn't have to split," she said. "And we're hoping to extend on this with Safe Affiliate Programs, opening up to others maybe in future to roadshows or seminars… so this year maybe I invite another program to share in this event, to have more affiliates coming."
Ultimately though, the group is about changing the highly competitive nature of the industry and making it better for everyone. "You know, in this group offerings, we all know each other as affiliates, right?" Learmonth asked. "I mean we don't go into detail, but why fight? You can see mergers and acquisitions happening everywhere, and it's really competitive environment. But we are trying to show a stranger numbers, without competing against each other too deeply."
"I think this is great and this is one of the reasons why I'm never leaving the industry," Liggero Fontana concluded.