Macau appears to be much healthier than it was a couple of months ago – maybe not economically, but that's to be expected due to the massive hit it took from COVID-19. As things begin to return to normal, the city is anxious to get back on its feet and wants to do everything it can to facilitate the process. Even though Hong Kong might still be dealing with the fallout from the coronavirus, Macau doesn't want to wait and has begun to work with neighboring Guangdong to ease border restrictions in order to start attracting more visitors.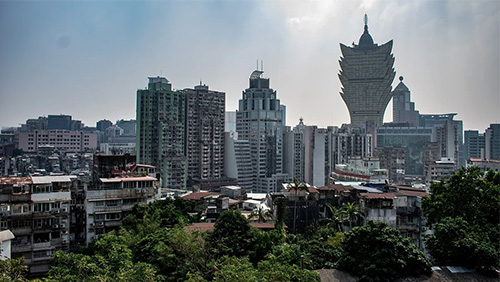 The chief executive of Macau, Ho Iat Seng, took a trip to Guangdong this week or order to meet with leaders there to discuss how border restrictions might be lifted. He met with the Secretary of the Guangdong Provincial Party Committee Li Xi and Governor of the Guangdong Province Ma Xingrui, according to Macau's Government Information Bureau, demonstrating the strides Macau has made at controlling the virus and the preventive measures it has implemented to ensure there is no resurgence.
Ho reportedly explained, "The SAR government will continue to monitor the development of the epidemic, and works persistently on preventing imported cases and recurrence of community transmission." To further support his efforts, he added, "It is believed the resumption of normal border operations between the two places would be conducive to the construction and development for the Greater Bay Area."
Hong Kong has been forced to extend its border restrictions as a result of a slight uptick in new coronavirus cases, now keeping things locked down between the SARs until July 7. International travel is taking a larger hit, with no international arrivals expected to be allowed until this September. In the past week, six new coronavirus cases have been registered in the city after seeing two weeks with no new cases.
However, just because Hong Kong has had to renew its anti-coronavirus stance, this doesn't mean that Macau and Guangdong have to do the same. Even Macau's health community asserts that there is no need for the trio of locations to follow the same protocol, and that relieving border restrictions between Macau and Guangdong does not mean that there will be a resurgence of the virus there. Speaking to the media yesterday, a doctor with Conde S. Januario Hospital, Dr. Alvis Lo Iek Long, asserted, "It's not necessary to reopen borders in synchronization with the three places, every situation is possible."