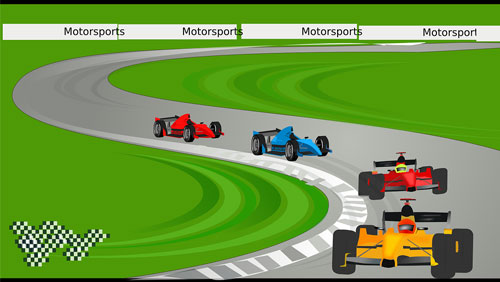 Daniel Abt just singlehandedly put the eSports industry on its butt. With the coronavirus pandemic causing sports to take an unexpected break, eSports has picked up substantially, and car races have been front and center as a popular option. Instead of getting behind a real steering wheel of a real car on a real track, professional drivers get behind a virtual wheel to participate in a race that has almost all the same bells and whistles as the real thing. There are some interesting results at times, such as when NASCAR driver Denny Hamlin experienced "technical difficulties" during a race (if you can define a 7-year-old turning off the game mid-play as technical difficulties), but, in general, things have been running well. That is, until now. Abt, who drives for Audi's Formula 1 team (hopefully, "drove" will be used in the near future) in the real world, participated in a recent Formula E race in the virtual world, but didn't actually take the wheel – he let a stand-in run the show for him. 
This past Saturday, Abt handed the keys over to Lorenz Herzing, a professional gamer out of Germany, who ran inconspicuously as Abt in the Berlin Tempelhof race. The cheating was uncovered during the race and an investigation was able to determine that Abt's IP address was not the source of the action. Stoffel Vandoorne, another pro Formula E driver, spotted some anomalies during the race, as well, saying on his Twitch account after the competition was over, "Really not happy here because that was not Daniel driving the car himself. Really ridiculous — I'm questioning if it was really Daniel in the car."
As a result, Abt was disqualified and was fined 10,000 ($10,900), which has to be paid to a charitable group. With a little luck, Audi will decide to part ways with him, as well. Hoerzing was also punished, kicked out of the event's competition organized for sim-racers. Abt would issue a statement later, saying, "I would like to apologize to Formula E, all of the fans, my team, and my fellow drivers for having called in outside help during the race on Saturday. I didn't take it as seriously as I should have. I'm especially sorry about this because I know how much work has gone into this project on the part of the Formula E organization. I am aware that my offence has a bitter aftertaste, but it was never meant with any bad intention."
How he can say it was without "bad intention" is anyone's guess. It was cheating and he knew it was cheating going in – certainly a 27-year-old understands what fraud is. Because of his actions, Abt has given carte blanche to every gambling opponent in the world to step forward and say, "I told you so." He has given eSports opponents a solid foundation to argue against eSports legalization. He has also made it much more difficult for the eSports industry to be taken seriously. I can't wait to see what he has planned for an encore.