Tim 'TheTrooper97' Watts is something of a curate's egg both on Twitter and on YouTube, where the popular poker YouTuber puts out around four videos per week. Watts has a family-based lifestyle and yet trawls Las Vegas looking for entertaining ways of bringing poker to the masses, so what is it that makes Watts so successful? Let's subscribe and mash that like button.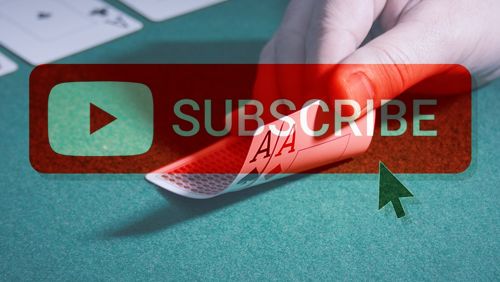 Having been making poker videos since the very beginning of 2012, Watts's watchword is clearly consistency. He's built a small yet fiercely loyal viewership of 38,500 subscribers that typically view each of his videos between 5,000 and 10,000 times between them. Occasionally, watts stumbles on something a bit more viral, but we'll come to that later.
"I play poker and drink a lot of coffee."
Tim Watts is not a man for over-explaining what he does, and that has reached a consistent audience, with the middle-marker of those 5,000 and 10,000 views-per-video reflected by his 8,000 Twitter followers. Keeping it simple yet being entertaining is the holy grail of YouTube videos, but pretty much any content everywhere, be it on television, the radio or in film, so Watts has mastered a niche skill. His knack of dialing this up into highly watchable videos is something that is harder to qualify, but we'll try.
In the U.K., there is a popular comedian by the name of Karl Pilkington, who has made a very good living as a social commentator on some of life's frustrating or entertaining squirks. Glitches in the matrix that don't have a good enough explanation are giving a going over by Karl and his charm lies in his ability to highlight these yet never really solve them, leaving the problem to be explored in the minds of his fans.
There is a feeling of Karl Pilkington about watching Tim Watts after a while. He's nowhere near as silly and frivolous as Pilkington, but his videos have some similar qualities. Both men are clearly very smart about what they are offering, and Watts started adult life playing Video poker at Myrtle Beach in South Carolina. It's his wide-eyed way of loving the Las Vegas lifestyle that draws you in. He's a low-limit player, so he appeals to how others might choose to play.
If you were already a very good poker player, you might be pointed in the way of Brad Owen, Andrew Neeme or Johnnie Vibes to find out how to document it so that other poker players would aspire to be you. Poker fans more likely aspire to play poker at a more basic level and Watts has a way of making that very accessible. You might very well ask what's stopping you doing this at the end of a marathon of watching his videos.
The answer is simple – nothing except the dedication to keep filming no matter what. A coffee and some home-made pizza? It's on camera. Las Vegas is closed? Get the tripod out and shoot it. This is the collection of a life documented to the nth degree. As you can probably tell, we're on the fence as to whether this is a good thing or a bad one.
Tim Watts might have plenty of thoughts on that subject, but if he has, you can rely on him expressing them. It doesn't seem like he has a thought that isn't expressed, and his many fans will hope that continues for a very long time.
You can browse the Tim Watts collection of YouTube videos right here.