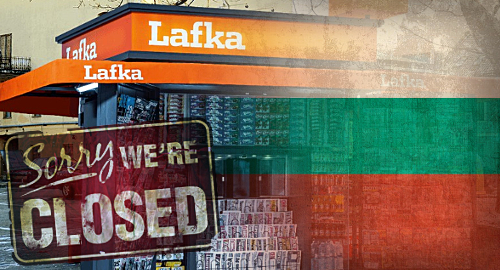 Bulgaria's gambling law changes have caused a major local retailer to close its operations due to its loss of private lottery revenue.
Last Friday, Bulgaria's State Gambling Commission (BGC) issued a statement announcing the formal imposition of the country's new laws restricting lottery operations to those run by the Bulgarian Sports Totalizator. Other lotteries were ordered to "cease distribution and sale of tickets, coupons, cards or other tokens" related to private lottery operators and to destroy all unsold tickets by the end of the year in the presence of BGC staff.
On Monday, Bulgarian kiosk chain operator Lafka Market announced that it was shutting down its operations, which boasted around 1,100 retail locations across the country. Lafka said it generated revenue of BGN240m (US$133.2m) in 2018 but much of this revenue was generated through sales of products issued by the privately-run National Lottery and Lottery Bulgaria, both of which were controlled by the now fugitive Vasil Bozhkov.
Bozhkov, who in addition to running the country's two largest lotteries also ran some prominent betting companies, was indicted in January on charges including extortion and bribery. Bozhkov has denied any wrongdoing but was recently detained in the United Arab Emirates and is awaiting extradition to Bulgaria.
Reuters reported last week that Bohzkov had been released from custody but UAE authorities had confiscated his passport and barred him from leaving the country. The UAE has no extradition treaty with Bulgaria but Bulgarian authorities reportedly sent their UAE counterparts over 200 documents supporting their extradition request.
Bulgarian authorities are making efforts to confiscate Bozhkov's trove of historical antiques, which are exhibited in a Bulgarian museum run by Bozhkov's Thrace Foundation. Bulgarian authorities are reportedly intent on recouping some of the millions in unpaid taxes they claim Bozhkov's gambling operations owe the state. They've also tried to put pressure on Bozhkov by seeking the arrest of his wife.
Bozhkov's indictment was followed by organized crime charges brought against both the current and former chairmen of the Gambling Commission as well as the Commission's monitoring department chief.
Bulgaria may have restricted its lottery operations to the state but the country has made no move to revoke the licenses it issued to a number of private online gambling operators, including familiar Western brands such as Bet365, Betfair, Bwin and PokerStars.