Konami Gaming, Inc. just received a big reason to celebrate. The Las Vegas-based subsidiary of gaming equipment and systems manufacturer Konami Holdings Corp. has been chosen as the exclusive provider of a casino management system for Resorts World Las Vegas (RWLV), which is expected to open in Sin City next year. Konami announced the new deal in a press release yesterday, explaining that its SYNKROS management system will be leading the show at the casino.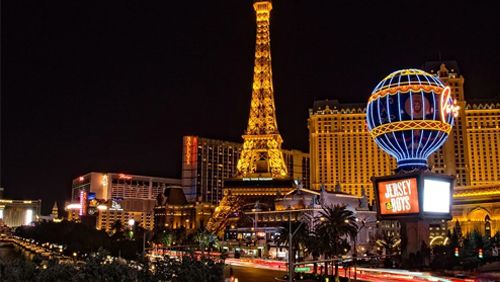 SYNKROS will manage all gaming operations at the $4.3-billion resort, which could open sometime during the summer of next year. It will offer the property enhanced marketing and tracking capabilities that, according to Konami, will allow the casino to offer greater player engagement while analyzing and optimizing the performance of the gaming operations. It is also able to manage accounting functions, as well as oversee table and slot activity.
Konami Gaming Executive VP and Chief Commercial Officer Tom Jingoli adds in the release, "The opening of Resorts World Las Vegas will bring a wave of leading-edge technology, convenience, and amenities to guests, in ways that are absolutely historic for Las Vegas and the larger global gaming community. For years, Konami's SYNKROS has worked to deliver guest experiences at the forefront of innovation, so the chance to create new heights of engagement and entertainment for future Resorts World patrons truly resonates with our shared, enduring vision. The work of [RWLV President] Scott Sibella and his team [have] made an exciting impression on the space and we greatly anticipate this addition to the world-famous Las Vegas Strip."
The resort is going to be the first on the Las Vegas Strip to embrace SYNKROS. RWLV is going to offer, among other amenities, a hotel with 3,500 rooms and a casino floor spanning 110,000 square feet, and the management software is up for the challenge. It is expected to make life easier for gamblers, as well, as it offers cashless bets, mobile account and loyalty program management, and more.
Adds Sibella, "Reinventing the hospitality experience in Las Vegas means enhancing our service measures and boosting customer engagement through every [touchpoint] of the Resorts World Las Vegas experience, including gaming. Through this partnership with Konami and the implementation of SYNKROS, we will have the ability to connect with players in real time to provide the most cutting-edge, personalized gaming experience on the Las Vegas Strip."
This is the latest deal Konami has signed for its SYNKROS system. It was selected last year to be used at two casinos owned by Full House Resort, Bronco Billy's Casino and Hotel in Colorado and Rising Star Casino Resort in Indiana, and continues to find more support. Partially because of this, Konami is enjoying greater success, reporting a 16% increase in revenue for the six-month period that ended in September, 2019.