While 2019 saw poker players win more money than ever before, expectations are sky high that in 2020, that record will be broken with ease. With the World Series of Poker likely to be expanded from the 90 tournaments it hosted last summer in Las Vegas, an even bigger partypoker MILLIONS schedule than ever before and the PokerStars Players Championship taking place in footfall-friendly Barcelona, players will have more opportunities than ever to put their names into headlines.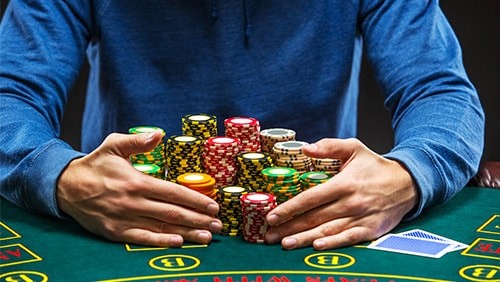 Who will be the players that rise to the top and conquer all before them, who will win the WSOP Main Event and who'll sit atop the All Time Money List in a year's time? We've looked into our crystal ball and plucked out seven players to keep an eye on, and maybe even buy pieces of online if they are available to back.
1. Stephen Chidwick
There are few players who have come to the poker public's attention more in 2019 than the British player from Deal in Kent, Stephen Chidwick. Once known as the best player never to win a WSOP bracelet, his maiden victory in terms of Vegas gold came in 2019's $25,000-entry PLO event, securing Chidwick his much-treasured bracelet.
The fact that Chidwick plays a wide range of games, coupled with his propensity to dominate tables at any level of buy-in is legendary. His table-image could be summed up by a silhouette: the rod-straight, the hairless head, the bullish bearded jaw jutted out as if to dare his opponents to outthink him. Few manage it. At the recent Super High Roller Bowl in London, Chidwick was unlucky not to win, but his performance at the final table was eulogised about by his peers, among them Sam Greenwood and Erik Seidel. When players of that calibre are calling out a competitor as a modern great, you know it's true. Chidwick could redefine poker greatness in 2020.
2. Daniel Negreanu
Kid Poker had one heck of a busy year in 2019, getting married, leaving PokerStars and joining GG Poker as their newest ambassador. 'DNegs' also ran the WSOP Player of the Year challenge very close indeed, too. In fact, Negreanu was only denied the title after having been erroneously awarded it by the clumsy WSOP bean-counters.
Having already suggested that in 2020 he might not pay rebuys, preferring to fire just a single bullet, he's since reneged on that loose promise. Negreanu will be a threat however many entries he's putting into the prize-pool and will be one to watch next year purely for his social media output, with video blogs and controversial opinions almost guaranteed by the biggest name in poker.
3. Bryn Kenney
The current all-time money list leader had the biggest year of his life in 2019, winning the biggest prize ever paid out in the Triton £1.05m-entry event in London. Kenney took home $20 million and with rumours of him having almost 100% of his own action, became one of the richest poker players in tournament history, if not the richest.
While the number of Super High Roller events nowadays makes it possible that he'll lose his lead at some point in 2020, such is the Long Island-born player's dedication, he's got every chance of finishing 2020 in exactly the same position even if he has to retake his position. Worth backing in every respect.
4. Phil Ivey
It's hard to imagine Phil Ivey having a year that doesn't involve some controversy, a final table at the World Series, and a few days in a court of law. Since the Borgata vs. Phil Ivey drama has refused to go away, it's highly likely that Ivey will find himself either defending himself or hoping others are prosecuted in a bid to clear his name.
While Ivey is guaranteed his legendary status in the game, what the player known as 'No Home Jerome' may need to do to produce the kind of headlines he's after in 2020 is return to tournament-winning form.
5. Sam Greenwood
Sam Greenwood had another fantastic year in 2019, winning plenty of money in tournaments. That said, what he'll probably be most remembered for by poker fans this year is his bad beat in the 2019 WSOP Main Event.
We're calling it early – Sam Greenwood to win the 2020 WSOP Main Event. If there's any justice, he'll get a big slice of luck with just a few tables left.
6. Alex Foxen
The two-time back-to-back Global Poker Index Player of the Year in both 2018 and 2019 is surely a favourite to claim that title again. Foxen has proved himself to be one of poker's super bosses, with his rise into the top 50 poker players of all-time by tournament winnings both predictable yet staggering.
Still so young, Foxen has a great shot as breaking into the Top 10 on the all-time money list in 2020, despite him currently being at $15 million, the same amount behind Steve O'Dwyer in 10th place on just under $30 million. Foxen is a player who loves the chase.
7. The Unknown (Poker) Soldier
OK, so this is a little tongue-in-cheek, but just as World War veterans who aren't remembered by name are often referenced by monuments to their collective memory, the future of anything always belongs to that person who we don't yet know.
The standout poker player of 2020 may well be someone we've never seen play at the live felt under the cameras, someone who is currently taking a break on every 55th minute of the hour as a matter of habit thanks to the hours they're putting in at the virtual felt too.
Maybe it's you and we're going to know your name in 2020 and assign you a headline, a signature move. If it is you, at least you know you'll be joining some of the biggest names in the game in our review of poker in 2020. You can put your money on that.